News and Events
Changes Coming Thursday, Aug. 12, to Employee Connections, Provider Portal Sites
Published: Aug. 9, 2021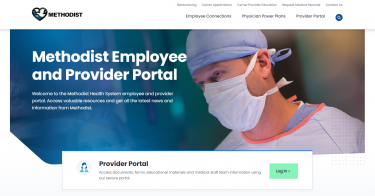 On Thursday, Aug. 12, Methodist Health System will launch a redesigned website housing Employee Connections communications updates and Provider Portal resources.
The new site can be accessed at https://staff.bestcare.org/.
The new site streamlines the browsing experience for users by consolidating several sites into one convenient online destination, making resources more accessible on devices of all sizes and building on improvements achieved with the launch of the public-facing bestcare.org earlier this year. The information and resources available through Employee Connections and the Provider Portal will remain unchanged.
Other changes of note:
Access to some resources within the Provider Portal will now require using your Methodist user name and password to better protect and control who has access to important medical staff documents.
Affiliate medical staff teams will have their own pages to share within the portal as well to share information specific to their locations.
Physician Power Plans will now be found at https://staff.bestcare.org/physician-power-plans and will be linked in the main navigation. Cerner Provider Education materials will now be found at https://staff.bestcare.org/cerner-provider-education and be linked at the top and bottom of the page. Logging in is not required to access these resources.
We appreciate the insight, feedback and support of individuals and teams across the health system who have participated in the redesign process!
Note: Depending on your internet service provider (ISP), it may take 24-48 hours to see the updated version of bestcare.org.