Leadership Updates
Leadership Update: Diversity, Equity and Inclusion Work Underway
Published: July 28, 2021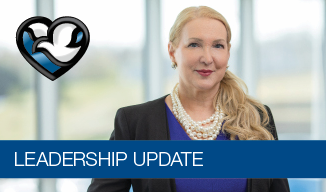 After launching our first Diversity, Equity and Inclusion (DE&I) survey in July 2020 and writing DE&I into our 2021-2023 strategic plans, Human Resources has been working to move Methodist Health System forward on our DE&I journey. We've achieved this in a few meaningful ways thus far.
In March, we shared the results of the Diversity, Equity and Inclusion survey, and in that article we asked those who were interested in helping with this work to complete a short interest form. Individuals were able to identify as either strategic, active or passive partners in this work. We're happy to report that 175 people "raised their hands" to help. From there, we got to work.
Individuals who identified themselves as strategic participants were invited to attend one of two workshops held on May 17 and June 21. The mission of these workshops was to provide framework, brainstorm ideas and come up with strategic goals for Methodist to implement a short- and long-term DE&I strategy. 
Individuals representing all areas and levels of the health system attended the workshops. Many wonderful ideas and visions were laid out, and we are now in the process of finalizing the report on these sessions. The next step will be to gather individuals who identified themselves as active partners and start diving into how we get more work done.
You might be thinking, "Wait! I want to help but missed the initial article!" Don't worry. There will be plenty of opportunities to help.
One of the ideas from the first strategic workshop was for Methodist to participate in the annual Heartland Pride Parade and Festival as a way to celebrate and support our LGBTQ+ employees and patients. This was also an opportunity to learn more about the health care needs of the community. A cross-functional group developed a survey to collect data on health care experiences from the LGBTQ+ population. The survey link was distributed as a flyer at the parade and festival on July 10. This data will be used to improve the experience and help ensure that all patients are cared for as needed.
Thank you to everyone who came out to support Methodist and our LGBTQ+ community. We had around 75 walkers in the parade, many of whom proudly sported their new Methodist-branded T-shirts. It was a wonderful sight to see.
Additionally, with the support of Methodist Hospital Foundation, we have signed a contract with Inclusive Communities to help us with training, development and strategic planning around DE&I for our organization. The scope is robust, and we're looking forward to announcing the details in the coming months.
And finally, I'm very excited to announce that Chris Tooley has been promoted to the new role of director of culture and inclusion within the Human Resources department. He will take the lead on our work with DE&I, Methodist Emerging Professionals (MEP) and any future employee resource groups (ERGs).
Tooley joined Methodist right as COVID-19 was ramping up, and, he's proven himself to be a highly capable and effective strategic partner to many individuals and teams across the organization.
With over 10 years of employee relations experience in several industries, Tooley has a wealth of knowledge in employee engagement, talent management and strategic planning. He's adept at navigating sensitive conversations and issues, and he has experience developing DE&I programs and leading teams. Tooley will step into this role ready to hit the ground running. Best of all, he embodies the best parts of The Meaning of Care.
While no one person is responsible for organizational culture, Tooley has been elevated to a role that will center this work on ensuring that our employees are seen and heard while encouraging them to consistently display The Meaning of Care. His years of experience in HR and genuine commitment to DE&I combined with his calm, assuring demeanor give me nothing but confidence that he will shine in this role. I hope you'll join me in congratulating him and wishing him success!
We have created a new Diversity, Equity and Inclusion email inbox – please feel free to reach out to us there with questions, ideas, etc. There is a long road ahead of us, but we can't wait to collaborate with each of you in better understanding how this work impacts us all.