News and Events
Methodist Grateful to Allan Lozier for His Service, Generosity
Published: July 22, 2021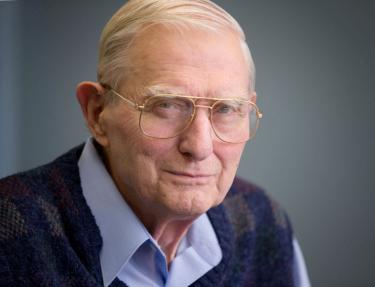 Allan Lozier, whose commitment and generosity to Methodist Health System has been felt since 1981, passed away on July 12 at the age of 87. Lozier was the former CEO and chairman of Lozier Corporation.
His relationship with Methodist began in 1981, when he became a member of the Methodist Health System board. He served as chairman from 1995 to 2005 and he retired from the board in 2007.
His involvement did not end there. He was a member of the Methodist Jennie Edmundson Hospital board from 1994 to 2013, the Methodist Hospital board from 1995 to 2007 and the Methodist Physicians Clinic board from 1991 to 2013.
His generosity to the organization was first noted in 1989 when Methodist Hospital's remodeled ninth floor, home to the birthing center, was named New Beginnings, in memory of his mother, Emma Lozier. This special gift followed labor and delivery services to Methodist Women's Hospital when it opened in 2010.
"Not enough people realize just how much Allan Lozier did to help others in need. He was a uniquely brilliant and perceptive friend who truly cared about those who did not enjoy a fair start," said Lawrence "Red" Thomas, friend and former Methodist board member. "Omaha will miss Allan more than they realize."
"Allan did so much to support Methodist Health System. He believed in helping others and in the power of philanthropy," said Tracy Madden-McMahon, president and CEO of Methodist Hospital Foundation. "We are a better, stronger, smarter health system thanks to him and we will forever be grateful."
Lozier is survived by his wife, Dianne, two children, multiple grandchildren and great-grandchildren.