News and Events
Have You Been Putting Off Preventative Care? It's Time To Return to Screening
Published: July 7, 2021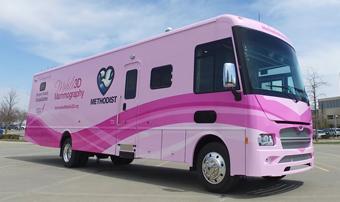 Did you delay your mammogram during the COVID-19 pandemic? What about your colonoscopy? Have you scheduled that low-dose lung CT scan, or are you still dragging your feet?  
As we continue in this new phase of the COVID-19 pandemic and vaccination rates rise, it's imperative that we shift our mindsets from crisis management back to preventative care. That's why Methodist Health System is partnering with the American Cancer Society and the American College of Surgeons Commission on Cancer as we join health systems and organizations across the country to improve cancer screening rates and stop cancers as early as possible.
The message is clear: It's time to return to cancer screening. 
 
Mobile 3D Mammography Coach Offers Convenient Screening Option
The Methodist Mobile 3D Mammography coach will be making a stop at the 825 Building next week so employees and their spouses can get their yearly mammograms. Screening appointments are available Wednesday, July 14, from 9 a.m. to 2:45 p.m.
Individuals must meet the following eligibility criteria to participate:
You must be 40 years of age or older.
It must be a year since your last mammogram.
You are not pregnant or have not breastfed in the past six months.
You do not have a lump, pain or discharge from the nipple area.
You must be ambulatory and able to maneuver the stairs into the coach.
You have not had a COVID-19 vaccine in the last four weeks. It's recommended that women wait at least four weeks from their second COVID-19 vaccine shot (when applicable) for a mammogram. 
Within the past year, you have seen a gynecologist, primary care provider or internist who is willing to accept screening results.
Each screening should take approximately 15-30 minutes to complete, and results will be available seven (7) days after the exam.
Those interested in obtaining a mammogram should complete this form.
Partner With Your Provider
If you believe you're due for a routine cancer screening, call your provider today. Unsure? Review these cancer screening guidelines, and call your provider if you have questions. Don't have a provider? Find one at bestcare.org.
It's simple: The earlier we catch cancer, the better the outcome. So don't wait any longer to make a decision that can benefit your health.