News and Events
825 Spotlight: Revenue Cycle Training
Published: July 7, 2021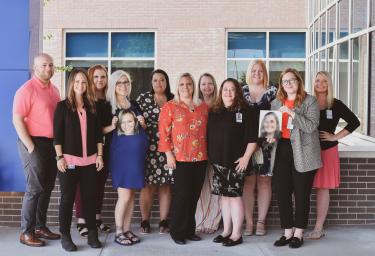 In an effort to highlight the work of teams behind the scenes, every other month we'll be featuring an 825 Building department in a new series called "825 Spotlight." The work of these departments plays an important role in our mission and in The Meaning of Care. With each update, we'll shed light on a specific function and the amazing teams that drive its work. 
The Revenue Cycle Training (RCT) team maintains, develops and trains on all the revenue cycle applications and tools for the Business Office, Financial Clearance, Registration and Scheduling staff. Revenue cycle management is the process health care organizations use to stay financially healthy, and this team supports the systems and programs that allow this to happen. These include Experian and HealthPay24.
The work done by the RCT team plays an important role in the patient experience. A patient's first interaction is typically with registration or scheduling; the RCT team ensures that revenue cycle applications are maintained and that frontline staff are properly informed, trained and competent to utilize the systems that collect patient demographic, health insurance and payment information.
The past 18 months have been a whirlwind for this dedicated, committed team. Its maintenance, setup, training and ongoing support for the Methodist Fremont Health Cerner Go Live; the Cerner Practice Management (CPM) for Methodist Physicians Clinics scheduling and registration transition; bringing new provider clinics online; and the Experian Go Live projects have led to numerous successes. 
The Methodist Fremont Health Go Live happened May 2020, right as COVID was peaking. The RCT team provided on-site support during uncertain and unprecedented times, without complaint, as though it was business as usual. This team truly exemplifies The Meaning of Care and the meaning of teamwork. The team's members are an extremely cohesive group who step up to the plate each and every day to help their peers and customers, and we are proud of their resilience and professionalism.
"Kudos to the team. It's not often that employees behind the scenes get the recognition they deserve, yet the RCT team regularly receives compliments from leaders and clinicians for their efforts."

– Jeff Francis, vice president and CFO of Methodist Health System