Awards and Achievements
Alex Jimenez Is Methodist Hospital's Employee of the Month
Published: July 1, 2021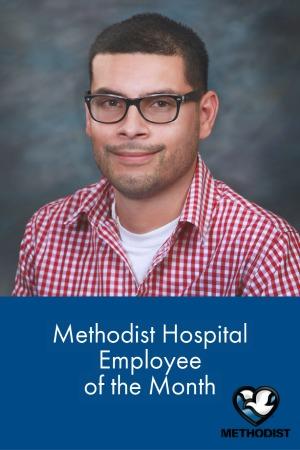 Alex Jimenez is a room service ambassador in Nutrition Services. He embodies our core values of integrity, excellence, learning, compassion, teamwork and respect in everything he does. Alex has been a Methodist employee for over six years.
His nomination for the Methodist Hospital Employee of the Month award said:
"Alex goes above and beyond every single day for not only our patients but also staff. He has no problem going the extra step for a patient. He walks into a room with a smile on his face and a friendly tone in his voice. Especially for our critically ill patients, it's the little things that make the world of difference, and Alex is part of that gift that we can give. He is such a ray of sunshine, and his positivity is contagious. Every action Alex takes is amazing!"
Congratulations, Alex, on being selected as Methodist Hospital's Employee of the Month!
---
To nominate a fellow Methodist Hospital employee for the Employee of the Month Award, submit a completed application form to Angie Anderson in Administration. Each nomination is kept on file for review for six months. The Employee of the Month nomination form can be found by searching under the "Forms" tab on mhsintranet, or click here.