Awards and Achievements
23 AgeWISE Nurses Graduate; Cohort No. 19 Begins in August
Published: June 22, 2021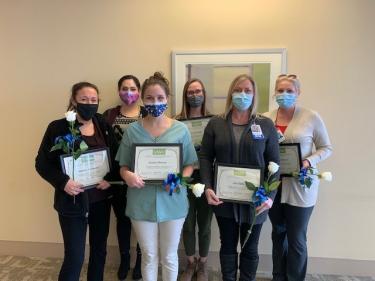 Navigating the AgeWISE Geropalliative Care Nurse Residency program in the midst of a pandemic presented its own challenges. However, we prevailed!
Seven registered nurses graduated on Dec. 14, and 16 graduated on June 11. These committed and flexible nurses from all four Methodist hospitals represented numerous nursing units and departments. Methodist Health System now has over 200 AgeWISE nurses who have graduated from this program. Methodist continues to be a national leader in AgeWISE and has graduated more nurses than any of the original hospitals selected in 2010.
December Graduates
Crystal Andrews
Meagan Deeds (not pictured)
Michele Desimone
Amy Eddy
Cara Fowler
Naomi Gutierrez-Rodriguez
Jessica Mowrey
June Graduates
Amber Baltaro
Alyssa Blair
Jenny Borer
Sarah Colpitts
Laura Egermayer
Kayla Franey
Anna Gill
Alyssa Hansen
Heather Hansen
Michelle Peacock
Sybil Porter
Megan Reiten
Nikki Stanley
Katelyn Theisen
Kinzie Utecht
Bridgette Weishaar
About AgeWISE, and Looking Ahead
AgeWISE is a collaboration with Nebraska Methodist College (NMC). Assistant professor Cathy Barnes, MSN, RN, has been a leader, facilitator and faculty member in AgeWISE since its inception. She retired in June and will be missed! We are grateful for her contributions to AgeWISE over the years. Many of the AgeWISE nurses also had her as an instructor at NMC, which made it fun for her and the nurses. Hilary Applequist, DNP, APRN-NP, NP-C, ACHPN, assistant professor for the BSN-DNP program, will be joining the AgeWISE team. Dr. Applequist is also a palliative care APRN in the Methodist Hospital Palliative Care program.  
A new cohort of AgeWISE residents begins on Aug. 27. Its members will spend two days per month in classroom seminars, discussions and clinical sites over a four-month period. Residents learn knowledge and skills in geropalliative care and resources across our health system and the community. This enhances their confidence, empowers them to be a resource to their peers and provide evidence-based care to older adults and their families, often toward the end of life. 
Nurses are required to take a professional nursing certification six months after they graduate. Nurses enrolled in a BSN, MSN or DNP program have one year to sit for certification. Methodist Hospital Foundation supports funding for nurse certifications. Nurses can also take advantage of the American Nurses Credentialing Center's (ANCC) Success Pays program for selected certifications supported by Methodist Hospital. Certification demonstrates a nurse's commitment to the profession and lifelong learning. ANCC certification provides evidence to the public and the profession of the strength of nurses' knowledge while also contributing to improved patient care. 
More Information
To learn more about AgeWISE, contact Deborah Conley at deborah.conley@nmhs.org.