Awards and Achievements
Tony Lopez Honored With Shine Award for Nursing Assistants
Published: June 15, 2021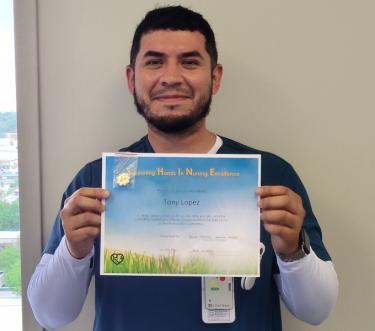 The Shine Award for Nursing Assistants honors these staff members for the special role they play in patient care at Methodist Hospital and Methodist Women's Hospital. Their Supporting Hands assist our nurses In achieving Nursing Excellence and quality patient outcomes. 
---
Shine Award Winner
Tony Lopez
Tony Lopez, a nursing assistant on the 8 South Medical Surgical Unit at Methodist Hospital, has been honored with the Shine Award.
His nomination for the award read:
"Tony Lopez is the best that I have encountered at any of my numerous hospital stays throughout the years. He is attentive, devoted, efficient, charming, personable, encouraging, supporting and a responsive listener. He took the time to get to know me as an individual. I never felt like him taking care of me was his job. He saw past me as a patient and saw a person with feelings, ideas and life experiences. He is the only person that I have ever had that has stopped by on his way home, with a jacket and backpack on, to tell me that I had done well that day and to give encouragement for the night. As I was walking in the hallways, I heard him teaching Spanish to another patient. It warmed my heart to hear and see him share his talents with others. He could teach a master class on how to provide quality patient care. I am better for having met him." 
Congratulations, Tony, on receiving the Shine Award. We thank you for all your hard work to show patients and their families The Meaning of Care.
---
Nominations for the Shine Award can be made by patients, family members or fellow staff members. Nominate a nursing assistant by emailing SHINE@nmhs.org or filling out this nomination form.