Awards and Achievements
Methodist Hospital Nurse Emily Wood Honored With The DAISY Award
Published: June 14, 2021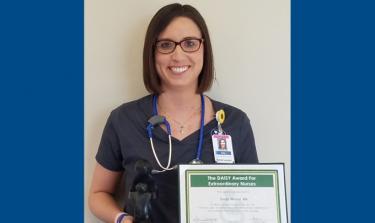 The best nurse Jim Murphy said he ever had had only been one for less than a year. But Methodist Hospital Acute Care for Elders (ACE) Unit nurse Emily Wood, BSN, RN, made such an impression that he had to tell his daughter – Helen Schlotfeld – about her. 
Jim, a U.S. Army veteran and co-captain of the 1956 Nebraska football team, had been battling throat cancer for the last decade. He was hospitalized in the ACE Unit in March with aspiration pneumonia – a frequent occurrence for him. He struggled to speak as a result of radiation years ago, and too many times he would have to strain his voice just to be heard.
"But Emily would get up and close where she could hear him the first time so he didn't have to repeat himself," Helen said. "Watching him struggle with that for years, I know that's one of the things he loved the most about her."
Helen praised Wood for physically speaking on Jim's level, prioritizing oral care and arranging pillows in just the right way – all seemingly simple aspects of care. But these small actions added up to make a big difference for the 86-year-old grandfather who was tired of being hospitalized and wanted to be at home with his wife. 
Helen was grateful for all the nurses who cared for her father, but Wood's empathy and dedication struck her so much that she started writing a letter over her lunch break: "My dad is so tired of being in the hospital, so when you see that a nurse has brightened his day, you just have to let the administration know that they have someone wonderful." 
The Little Things
Helen's heartfelt letter turned into a nomination for The DAISY Award, a national award recognizing the compassionate and skillful care of nurses. 
"I'm thrilled that that family nominated me," said Wood, who graduated from Nebraska Methodist College in 2020. "The day I took care of him was actually only my third day on the floor, and I still felt super nervous. So the fact that they thought I was doing a great job is special – overwhelming, honestly." 
Wood wanted to be a nurse since she was 3 years old and enjoys working with the geriatric population, which, she said, is often ignored. She's proud of the Geriatric and Senior Services that Methodist provides and its commitment to serving the older population as an Age-Friendly Health System. 
"We're always pushing to make things better," she said. "That's really important and amazing to be a part of." 
For Wood, The Meaning of Care isn't always something extraordinary. It could be thanking a patient for allowing her to be a part of their care, getting a cup of coffee for a caregiver or thanking a housekeeper. 
"The Meaning of Care goes down to those little things that in the grand scheme of things might get forgotten," she said. "But sometimes those little things mean the most to a patient or a family member."