HR and Benefits
Retirement Plan Update: Important Dates To Remember About the Transition to Principal Financial Group
Published: June 8, 2021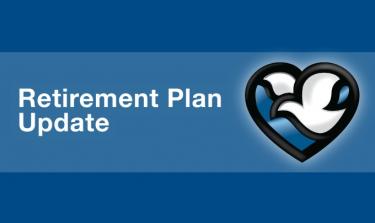 Principal Financial Group acquired the Wells Fargo Institutional Retirement & Trust business on July 1, 2019. The following Methodist Health System sponsored retirement plans will move to the Principal platform the week of June 21, 2021:
The transition work is well underway, and plan participants recently received more detailed information regarding key dates and how they may impact their accounts. Both Principal and Wells Fargo Institutional Retirement & Trust are committed to making this transition seamless and simple for you with a strong focus on uninterrupted service while delivering the best of the combined firms. You should expect to receive the same level of service you have always received.
Important Dates To Remember
June 17, 2021, at 4 p.m. Eastern Time: Blackout transition period begins.* You'll be able to view your account information at wellsfargo.com, but you will not be able to make any changes to your account until the move is complete. 
Your account balance will transfer to Principal based on the account value at market close. Please note that this does not impact non-retirement account(s) you have with Wells Fargo. You can continue to access those through wellsfargo.com or through the Wells Fargo mobile app.
Week of June 21, 2021: When the move is complete, you will have full access to your information and new plan resources. (This date depends on the accurate and timely transfer of data to Principal. You'll be notified of any delays in the transfer of data that change this date.)
Confirmation of move
Once your account has moved over, Principal will notify you and provide instructions on how to secure your online account access. You'll also be invited to an upcoming webinar on July 7, 2021.
Staying Informed
Until the transition period, continue to access your account online at wellsfargo.com, through the Wells Fargo mobile app or through the Retirement Service Center at 1-800-728-3123. A faster way to stay informed about your financial future is through retirement plan emails. Sign on to your account at wellsfargo.com using a computer. After selecting the retirement plan name on the "Account Summary" page, choose the "My Settings" link at the top of the page, then "Delivery Preferences."
Questions?
Please call Wells Fargo Retirement Service Center at 1-800-728-3123
*More on the Blackout Period
The blackout period is a short amount of time when account activities otherwise available under the plan are paused, including: 
Changing investment elections for future contributions
Transferring funds among investment options
Requesting a plan loan, distribution or withdrawal
This is necessary to allow any pending account activity to process so your funds transition correctly. All investment options held under the plan are subject to the blackout period.
During the blackout period, you won't be able to direct or diversify the retirement funds held in the retirement account. That's why it's important to review and consider your current investment decisions before the transition begins. For your long-term retirement security, give careful consideration to the importance of a well-balanced and diversified investment portfolio, taking into account all your assets, income and investments.
If you have questions about this notice or the blackout period, please contact: Wells Fargo Institutional Retirement & Trust, 1525 W WT Harris Blvd, Charlotte, NC 28262-8522, wellsfargo.com, 1-800-728-3123.