Awards and Achievements
Methodist Hospital Nurses Recognized With DAISY Awards for Care of Colleague's Grandfather
Published: June 8, 2021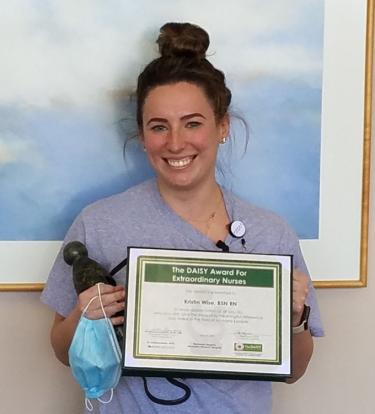 When Melinda Rawlings' grandfather Cecil Miller was transferred to the Methodist Hospital Progressive Care Unit for COVID-19 treatment in November, Rawlings took comfort in him being under the care of the 6 North team and her friend Kristin Wise, BSN, RN.
"Not one moment went by while my grandpa was on 6 North where I didn't feel love and support coming from my coworkers," said Melinda Rawlings, RN-BSN, MSNCB, a medical-surgical nurse at Methodist Hospital.  
For their compassion and family-like support when Cecil's own couldn't be by his bedside, Rawlings nominated Wise for The DAISY Award and 6 North for The DAISY Team Award – national awards that recognize extraordinary care in nursing. 
"We Will Be You, Melinda"
In her nomination letter for Wise, Rawlings wrote: 
"As a Methodist coworker and friend of Kristin's, my heart jumped, and I was immediately calmed knowing that my grandpa was in her care. I've watched Kristin multiple times on the job go out of her way to do whatever she can for her patients. She has a heart of gold and has so much compassion for her patients. She sacrifices her heart and soul for everyone she touches." 
At no moment were Rawlings and her family more grateful than when Wise called them after Cecil took a turn for the worse during her shift. Sensing he may not recover, Wise insisted that the family say goodbye while Cecil was still awake. 
Rawlings said Wise cried with her over video chat as she and her husband said goodbye to Cecil. Progressive Care service leader Heather Rolling, MSN, NE-BC, PCCN, was also in the room. 
"Heather looked me in the eyes on the iPad and just said, 'We will be you, Melinda. Don't worry. We won't let him die alone,'" Rawlings said. "Your coworkers doing that for you … you just can't repay somebody for that."
"Heroes of Methodist Hospital"
The compassion and teamwork of the entire 6 North staff are why Rawlings didn't stop at recognizing just Wise. In her nomination for The DAISY Team Award, she wrote:
"6 North, thank you for the countless hours of holding the hands of someone else's loved ones, praying with them, FaceTiming with their families, being their familiar face, being a calming voice, being patient advocates, and for your kindness and all of the other countless things you do to dedicate your lives to saving our loved ones who are fighting COVID-19. You have so many guardian angels in heaven, like my grandfather, who appreciate every waking moment that you cared for them. From the loved ones of patients you cared for while fighting for their lives, thank you. You are truly the heroes of Methodist Hospital, and your invaluable service does not go unnoticed."
Rolling was grateful for the acknowledgement for her team, especially since it came from a fellow nurse. She said it was an honor to care for a member of the Methodist family. 
"I Can Never Repay Such Beautiful People"
Although he had transitioned to comfort care, Cecil wouldn't pass for a couple more days – enough time for him to be transferred to Rawlings' home unit and for her sister to be allowed by his side during his final hours. Rawlings' reunions with her co-workers after her grandfather passed were emotional, and she's grateful for how hard Wise and the 6 North team fought for her grandfather.
"Until you're in the Progressive or Critical Care Units, you just can't fathom what happens on a day-to-day basis with these patients," said Rawlings, who occasionally has floated to the COVID-19 units. "The staff is the family to these patients. They're with them all day long. They communicate with their families. They're holding patients' hands and singing to them and doing all the therapeutic things to try to make their stay or end-of-life care better."
She added: "I can never repay such beautiful people for doing such difficult and emotional things for my grandfather, my family and me."