Awards and Achievements
Methodist Hospital Nurse Kayla Franey Honored With The DAISY Award
Published: May 12, 2021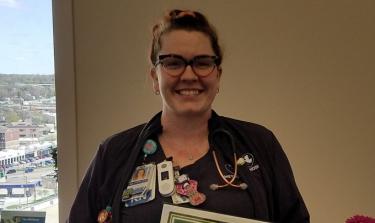 "It was hard to know that I was going to have another patient not make it," said Methodist Hospital Critical Care Unit nurse Kayla Franey, BSN, RN, CCRN.
Franey had been one of the nurses caring for 73-year-old COVID-19 patient Jim Wegner for nearly a month after he was hospitalized on Nov. 24. Sedated and on a ventilator, Jim would never know her. But Franey cared for him like she does for all her patients – getting to know him through his family's stories, learning he was stubborn by the way his body responded to different positions, and playing his favorite music from country greats like Johnny Cash and Willie Nelson. 
Jim was fighting but not improving. Once he was no longer COVID-positive and came off a ventilator, he was moved to a different unit and not in Franey's care anymore. Despite the grim outlook, his family agreed to a tracheostomy and feeding tube.
"We had to be able to walk away and say we gave him every chance we could," said Jim's daughter Kristin Woebke. 
But Jim still wouldn't wake up. Kristin recalled talks with Franey about what was best for her father and what quality of life he would have wanted.
"Kayla constantly advocated for Dad," Kristin said. "What did he want? What were his wishes? While she was taking care of us, she was also keeping him her No. 1 priority." 
On Dec. 22, Jim's wife, Cheryl, and his family made the decision to withdraw life-sustaining treatment. Kristin was driving to the hospital to be with her father when she got a phone call from a nurse.
Shortly after, Franey got her own phone call from a colleague – one that still has her in shock. 
"Jim woke up," Franey said. 
In the weeks that followed, Jim would learn how sick he really was during his time in the hospital. He would learn about the extraordinary care of everyone on his team at Methodist. And he would learn about one nurse in particular – Franey – who advocated for him and formed a special connection with his family throughout his illness. 
For Franey's skilled and compassionate care, Kristin nominated her for The DAISY Award – a national award recognizing exceptional nurses. In her nomination, Kristin wrote: 
"After 36 days in the hospital and 44 days in a rehabilitation setting, my dad came home. I know in my heart that wouldn't have been possible without the amazing care he received from all the nurses and doctors and therapists at Methodist. And I know in my heart that wouldn't have been possible without Kayla. She is the embodiment of what a nurse is, and she does it with a kindness, grace and grit not seen in many others. She deserves this and so much more. She will always be an angel to our family and especially to my dad."
Surrounded by colleagues, Franey was honored with The DAISY Award in a surprise ceremony last month. For her, it's a sign that she's doing her job right. She hasn't always worked in intensive care, but she transferred to the unit because she felt it was her calling.
"I enjoy the acuity, and I love guiding patients and families through this journey," she said. "It is a journey – not a couple-day process. It's nice to develop a relationship with the families and get to know who the patient is when they can't tell me who they are themselves." 
Franey isn't a nurse for the recognition, but she acknowledged that after the year she and her colleagues have had, words of kindness and gratitude from patients and families are meaningful. And for all that she gave Jim, he gave her something in return: hope. 
"Jim is our success story," she said. "When we think about how many patients we've lost throughout all this, he is our success story that we can hang onto."