Awards and Achievements
Jenn Graff Honored With Shine Award for Nursing Assistants
Published: May 5, 2021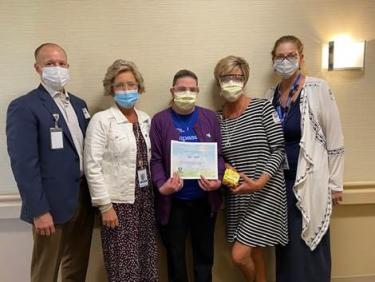 The Shine Award for Nursing Assistants honors these staff members for the special role they play in patient care at Methodist Hospital and Methodist Women's Hospital. Their Supporting Hands assist our nurses In achieving Nursing Excellence and quality patient outcomes. 
---
Shine Award Winner
Jenn Graff  
Jenn Graff, a medication aide lead at Dunklau Gardens, has been honored with the Shine Award.
Her nomination for the award read:
"Jenn has been an employee of Dunklau Gardens for many years, dedicating her life's work to the care of our elderly, and specifically, our dementia population. Jenn is a certified dementia care caregiver and has a special gift for caring for the challenging needs of those with dementia, ensuring they have meaning to their lives and enjoyment and stimulation according to their level of dementia. She often does special things for those with dementia, but during this specific incident, she really went above and beyond. Residents' are often restless during the evening hours, the shift in which Jenn works. This night she put on some fun movies for the residents and popped popcorn, and they all lit up as this is an activity they really connected to and remembered. You could see all the smiles and enjoyment on their faces. We value having an employee like Jenn on our team in Dunklau Gardens. She is a role model for excellence and patient-centered care in all she does!"
Congratulations, Jenn, on receiving the Shine Award. We thank you for all your hard work to show patients and their families The Meaning of Care.
---
Nominations for the Shine Award can be made by patients, family members or fellow staff members. Nominate a nursing assistant by emailing SHINE@nmhs.org or filling out this nomination form.