Awards and Achievements
Michael McMahon Is Methodist Hospital's Employee of the Month
Published: May 4, 2021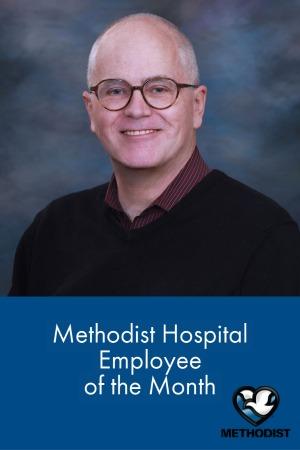 Michael McMahon is a chaplain in the Spiritual Care Services department. He embodies our core values of integrity, excellence, learning, compassion, teamwork and respect in everything he does. Michael has been a Methodist employee for over five years.
His nomination for the Methodist Hospital Employee of the Month Award read: 
"Michael is always approachable, compassionate and kind. He goes above and beyond for patients, their family members and staff. He represents The Meaning of Care in everything he does. He provides unconditional empathy and compassion in times of turmoil. Michael deserves the Employee of the Month award for his continued commitment to excellence. He is a beacon of light during some dismal and dark times."
Congratulations, Michael, on being selected as Methodist Hospital's Employee of the Month!
---
To nominate a fellow Methodist Hospital employee for the Employee of the Month Award, submit a completed application form to Angie Anderson in Administration. Each nomination is kept on file for review for six months. The Employee of the Month nomination form can be found by searching under the "Forms" tab on mhsintranet, or click here.