Awards and Achievements
Methodist Fremont Health Nurse Kaylie Schmid Honored With The DAISY Award 
Published: April 26, 2021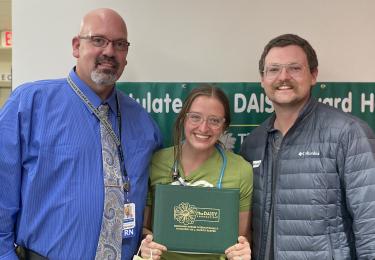 It had been a busy, stressful shift for Kaylie Schmid, BSN, RN, when she was summoned to the hallway on Methodist Fremont Health Hospital's intensive care unit (ICU).
First she saw a group of coworkers. Then she spotted her husband, Ryan, and father-in-law, Courtney Schmid, MSN, RN, director of emergency services at Methodist Jennie Edmundson Hospital. A moment later, she saw a sign for The DAISY Award, which honors extraordinary skill and compassion in nursing, and she put the pieces together.
"It was a very big surprise," she said. "I cried pretty quickly."
Then she heard the award's nomination read aloud.
"When I found out the actual story and who nominated me … I've never forgotten that patient," Schmid said. "That has been a day that specifically stood out to me."
Schmid and the ICU staff cared for Benjamin Graber, MD, for two weeks last fall as he battled COVID-19. As his condition worsened, his wife, Cindie, knew what was coming.
On Oct. 31, as Cindie was visiting her husband, she knew something was different. Before she arrived, Dr. Graber had requested medication to ease the pain he felt while breathing. His medication was increased as the day went on. With evening coming, Cindie wondered whether to go home.
"She was very stressed about leaving, and I could see it on her," Schmid said. "I told her, 'Tell him goodbye now, when he's here and with us and can tell you goodbye back.' I think I just helped her feel not guilty. He wasn't going to be alone, and I think that's what she was mainly worried about."
Cindie recalled: "She hugged me, and she looked me straight in the eye and said, 'I will take care of him for you.' She said, 'People deal with death in all sorts of different ways, and none of it is wrong.'"
Then Cindie and her husband of 38 years spent their final moments together. 
"We went through our life and the different things we had accomplished. It was a good life. He was pretty much prepared."
As Cindie left her husband for the last time, Schmid stayed by his side. Before Cindie arrived home, he had slipped away. Schmid immediately called Cindie to let her know, and that she had stayed by his side.
"She told me she prayed with him. And she played classical music for him. And he just kind of went into the sleep that you're supposed to," Cindie said. "My heart, I couldn't believe a person would go in there and close the blinds and be with a patient like that. It was just beyond what you would ever expect out of a nurse because they're so busy, and they were so busy up there at that time. I wanted to do something."
For Schmid's extraordinary care during such a difficult time, Cindie nominated her for The DAISY Award.
Cindie didn't attend the ceremony because she was getting a COVID-19 vaccination, and she's not sure she would have gone anyway. The spotlight belongs to Schmid, she said, and knowing she was honored meant the world to her.
"Kaylie was all in," Cindie said. "It wasn't just a front. I don't think you find very many people today like her. She's one in a million."