Awards and Achievements
Terra Townsend Honored With Shine Award for Nursing Assistants
Published: March 24, 2021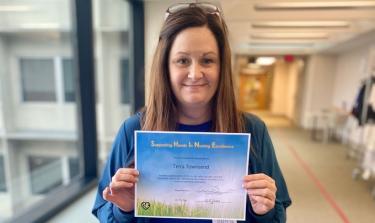 The Shine Award for Nursing Assistants honors these staff members for the special role they play in patient care at Methodist Hospital and Methodist Women's Hospital. Their Supporting Hands assist our nurses In achieving Nursing Excellence and quality patient outcomes. 
---
Shine Award Winner
Terra Townsend   
Terra Townsend, a joint aid on the Methodist Hospital Ortho/Neuro Unit, has been honored with the Shine Award.
She was nominated by her coworkers on the unit, who wrote:
"The entire team would like to nominate Terra Townsend for the Shine Award. Terra has been a member of the Methodist family for over 20 years. During her long career as a nursing assistant, she has consistently exceeded the expectations for nursing assistants and embodies our core values to their fullest. She is professional, kind, empathetic and hardworking. She currently serves as the joint aid, an extremely important position with our Total Joint Program. Every day she arrives before 6 a.m. and begins the work of getting all of our joint patients up, bathed, dressed and in their chairs for breakfast. This ensures they're ready for therapy, which is essential for meeting discharge goals. In her downtime, she rounds on all patients and staff, keeps our unit clean and organized, and doesn't hesitate to answer call lights for patients who are not on her list. 
"During 2020, the COVID pandemic disrupted our normal operations tremendously. Our surgeries were canceled in the spring, and then many were delayed again in the fall and early winter. During this time, Terra didn't hesitate to change her focus and embraced caring for COVID patients with the same kindness and compassion. She adjusted her schedule to meet the changing demands on the unit. Like with everything she does, her focus was always on teamwork and providing excellent care to our patients. 
"We hope that you'll consider awarding her with the Shine Award. Our unit would not be the same without her."
Congratulations, Terra, on receiving the Shine Award. We thank you for all your hard work to show patients and their families The Meaning of Care.
---
Nominations for the Shine Award can be made by patients, family members or fellow staff members. Nominate a nursing assistant by emailing SHINE@nmhs.org or filling out this nomination form.