Awards and Achievements
Marie Kozel Honored With The DAISY Award for Her Leadership and Innovation
Published: Jan. 27, 2021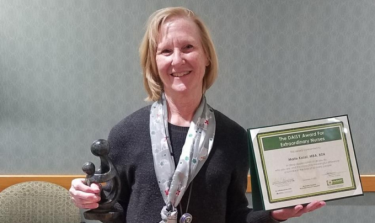 "I've been blessed to work in two areas of the nursing profession that I absolutely fell in love with – women's health and informatics," said Methodist's director of clinical informatics, Marie Kozel, MBA, BSN, RNC-BC.
Kozel's nursing career spans decades, and she had found a home and leadership roles in women's health. But in the early 2000s, Methodist began converting its electronic medical record (EMR) to a new platform – Cerner – a massive undertaking that steered Kozel's career in a new direction when a clinical lead was needed for the project team. 
An 18-month role has turned into 18 years, and a department of three has grown to 33. Kozel's career in nursing informatics – a field that focuses on improving information and communications in nursing – has made her an invaluable leader at Methodist, building relationships across the country and growing a national reputation for her work and innovation. 
So when she was honored with The DAISY Award in December at Methodist Hospital, the only person who was shocked was Kozel. She called the award "the biggest surprise that I have ever experienced in either my personal or professional life."
Kozel's nomination started as a letter of praise to Teri Tipton Bruening, MSN, RN-BC, CNE, vice president of patient care and chief nursing officer at Methodist Hospital and Methodist Women's Hospital. The nominator was Kansas City-based Cerner's director and regional clinical executive Amye Gilio, DNP, MSN, RN-BC.
"I was just thinking about the people I support, and Marie stood out as somebody who's so proactive as opposed to reactive," Gilio said. "Oftentimes the health information technology (IT) nurse leader is that behind-the-scenes person. The volume of work that Marie does and how she ties that back to what nursing is wanting is just invaluable. She does a stellar job."
Kozel's work is having an impact during the COVID-19 pandemic, too. One example: She collaborated with clinical leads to reduce documentation for COVID-19 patients in the EMR by 300 data fields – streamlining the information that nurses and respiratory therapists needed to record while maintaining what's essential. 
"She was minimizing nursing documentation to maximize the time that patients were getting nursing care, which is a big deal," Gilio said. 
It's just one example of how Kozel still touches patients. She makes it easier for nurses across the health system to deliver the exceptional and compassionate care Methodist is known for. And while The DAISY Award so often goes to nurses caring directly for patients, Kozel's honor is reflective of the impact that nurses in every role can have.