Awards and Achievements
Congratulations to Recent Graduates
Published: Jan. 19, 2021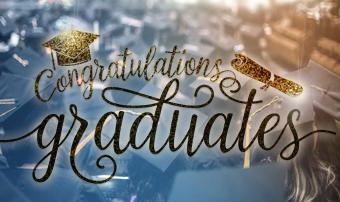 Congratulations go to the following Methodist staff members who recently completed educational degrees. 
Committing ourselves to the continued enhancement of professional education is one of the ways we live The Meaning of Care. Knowledge gained through attainment of undergraduate and graduate degrees strengthens the individual and our organization as a whole, empowering staff to raise the bar ever higher on the delivery of patient care and service.
The following list represents MHS employees' "Professional Data" updates submitted to Human Resources through Lawson Employee Self Service between Oct. 1 and Dec. 31, 2020.
Please note that the list includes employees who earned degrees in the quarter shown OR who input degrees in the quarter shown and earned them in the previous quarter. Watch for the quarterly posting of new graduates on Employee Connections.
Methodist Women's Hospital
Associate Degree, Vocational Other
Ziad Abouessa, Nutrition Services    
Bachelor's Degree, Sonography
Julia Pleskac, Perinatology    
Nebraska Methodist College
Master's Degree, Education
Darbi Eschmann, Undergraduate Nursing   
Methodist Health System 
Associate Degree, Health Information Management
Tami Ruskamp, Health Information Management  
Master's Degree, Nursing Administration
Timothy Brooks, Learning Center    
Methodist Hospital
Bachelor's Degree
Jonathan Dormady, Lab Specimen Processing    
Bachelor's Degree, Allied Health
Meranda Olson, Surgery Main    
Bachelor's Degree, Nursing
Lorelle Andersen, Surgery GI Lab    
Jane Rodgers, ACE Gen Med    
Nikki Stanley, Ortho Neuro    
Doctorate
Aimee Black, Quality    
Master's Degree, Business Administration
Heather Dostal, Rehabilitation    
Joseph Driewer, Radiation Oncology    
Ashley Sullivan, PACU   
Master's Degree, Nursing Administration
Ashley Sullivan, PACU    
Master's Degree, Public Administration
Nicholas Walsh, Emergency Management    
Methodist Physicians Clinic
Bachelor's Degree, Nursing
Andrea Ryan, Indian Hills Family Practice   
Doctorate, Biochemistry
Danielle Frodyma, MPC Westroads Research Lab                                                                  
---
REMINDER: Submit new degrees earned through Employee Self Service.
If you need help accessing Employee Self Service through the Lawson login on mhsintranet, call the IT Service Desk at (402) 354-2280.