Awards and Achievements
Maria Marquez Honored With Shine Award for Nursing Assistants
Published: Jan. 12, 2021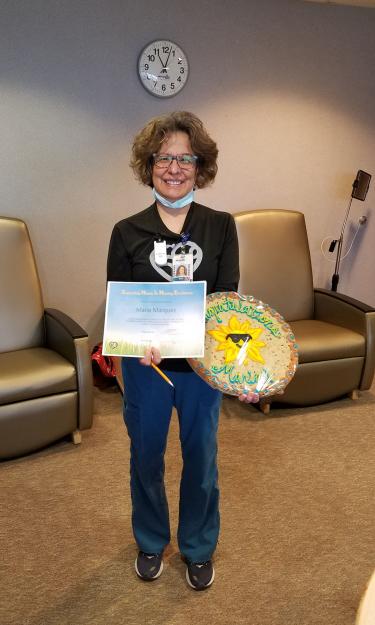 The Shine Award for Nursing Assistants honors these staff members for the special role they play in patient care at Methodist Hospital and Methodist Women's Hospital. Their Supporting Hands assist our nurses In achieving Nursing Excellence and quality patient outcomes. 
---
Shine Award Winner
Maria Marquez   
Maria Marquez, a nursing assistant on the Methodist Hospital ICU, has been honored with the Shine Award.
She was nominated by Critical Care service leader Tim Hoarty, BSN, RN, CCRN, who wrote:
"Maria joined the Critical Care team at the perfect time – just before the COVID storm hit! This amazing person does it all here on 7 North as she has settled in as our 'Unit Secretary extraordinaire.' Maria is all over the unit, keeping our team connected and informed. She manages the front desk, answers lights, tracks supplies down and keeps things organized. The consistency and stability she brings to our unit is HUGE. Every single day, Maria assists our core, nurses and fellow CNAs – her supportive role keeps our unit running smoothly, and she often jumps in to help out as a care companion or work the floor. I am not exaggerating when I say that without Maria, I don't know how we would have gotten through the last eight months! THANK YOU!"
Congratulations, Maria, on receiving the Shine Award. We thank you for all your hard work to show patients and their families The Meaning of Care.
---
Nominations for the Shine Award can be made by patients, family members or fellow staff members. Nominate a nursing assistant by emailing SHINE@nmhs.org or filling out this nomination form.