Awards and Achievements
Methodist Hospital Short Stay Unit Nurse Gabby Oehm Honored With The DAISY Award
Published: Jan. 11, 2021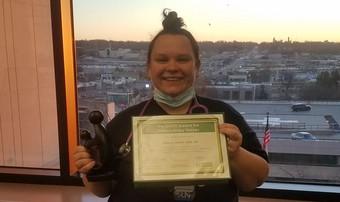 Gabby Oehm, BSN, RN, hasn't been a nurse at Methodist Hospital for long, but she's already making an impact with her attitude and ambition. Her passion for caring for others and going above and beyond was recently on display during an encounter that proved life-changing for a patient.
Last month, Oehm was surprised with The DAISY Award, which honors extraordinary skill and compassion in nursing. She was nominated for the award by a patient who wrote:
"This is why I believe God made angels to be RNs like my Gabby. I had the honor of having this beautiful soul care for me while I was very sick. My sickness is not the kind you can see. Mine is a mental illness, Bipolar 2. When I came to Gabby's unit, I was in a full manic attack. After 36 years of being bipolar, this was my first attack in 20 years. Very scared and being from another state, (I was) not sure if anyone would understand what a manic attack was or looked like. Frightened and looking at every professional's eyes, I was amazed and pleasantly relieved by the empathy and understanding of the team. … Every hour got better. No one left me alone – and that saved me. Once I got to the floor, Gabby was my savior that night. She was a large light of joy for me. Always consistent in everything she said she was going to do. Always with a smile. Always concerned about me. I only existed when she was in my room. … Gabby, I wouldn't be walking out of here today if it wasn't for you!"
Oehm said she was in shock when surprised with the award, and hearing the patient's nomination was bittersweet. Oehm has had her own mental health challenges, many of her family members have struggled with addiction and her mother, who recently passed away, battled bipolar depression for much of her life.
"I was really trying to make the patient feel safe, because a lot of people who are suicidal don't feel safe," Oehm said. "I guess I didn't realize I made that big of an impact. It made me feel really good to know that I made someone's life better."