Awards and Achievements
Jenna Beran Honored With Shine Award for Nursing Assistants
Published: Jan. 6, 2021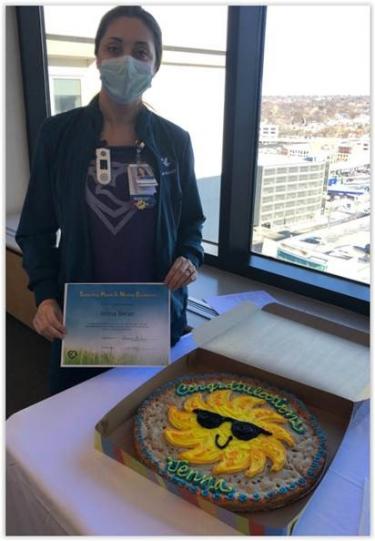 The Shine Award for Nursing Assistants honors these staff members for the special role they play in patient care at Methodist Hospital and Methodist Women's Hospital. Their Supporting Hands assist our nurses In achieving Nursing Excellence and quality patient outcomes. 
---
Shine Award Winner
Jenna Beran  
Jenna Beran, a nursing assistant on the Methodist Hospital Cardiac Unit, has been honored with the Shine Award.
Her anonymous nomination for the award read:
"I want Methodist Hospital to recognize what an outstanding nursing assistant you have. Every day she was bright, cheerful and engaging. My wife and I believe she went above and beyond the call of duty. I had what turned out to be a complicated surgery. Jenna consistently asked what she could do to make me more comfortable. She was always encouraging in a easy and comfortable manner. She was consistently asking my wife if there was anything she could do for her, as well. Other staff were kind and caring, but Jenna needs to be recognized by Methodist is some meaningful fashion. She is absolutely top-notch!"
Congratulations, Jenna, on receiving the Shine Award. We thank you for all your hard work to show patients and their families The Meaning of Care.
---
Nominations for the Shine Award can be made by patients, family members or fellow staff members. Nominate a nursing assistant by emailing SHINE@nmhs.org or filling out this nomination form.