Awards and Achievements
Methodist Hospital Acute Care for Elders (ACE) Nurses Honored With The DAISY Team Award
Published: Jan. 5, 2021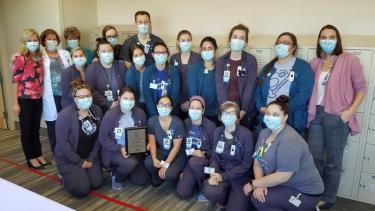 It didn't take long for nurse coordinator Christina Queen, BSN, RN-BC, to figure out who wrote these words as part of an anonymous nomination:
"My husband was in Methodist Hospital for eight days. He was suffering from liver failure due to long-term alcohol use. He went through detox. This was a very difficult time for my husband, myself and our adult children. Every Methodist employee – from doctors to case managers to nursing assistants – showed us nothing but kindness during his stay. I especially want to recognize the nursing staff on 7 South. These excellent nurses work as an amazing team. They were respectful, nonjudgmental and sincere. My husband was treated with dignity and respect."
Queen and her colleagues in Methodist Hospital's Acute Care for Elders (ACE) Unit on 7 South smiled as the entire nomination letter was read aloud at a recent ceremony that honored each of them with The DAISY Team Award. The award is aimed at recognizing the collaboration that extraordinary care often requires. 
Humbled by the award, Queen said, "It makes sense."
"Every nurse has their own specific patient, but really, this award proves that every patient on the floor is everybody's patient," Queen added. "7 South nurses are known for stepping up to help everybody. Nobody is too good to answer a call light or enter a room. We truly work as a team."
Perhaps nobody knows that better than Becky Jizba, MSN, MBA, RN, NE-BC. Jizba was the unit's service leader in February 2020 when the nomination was written.
"As the leader of the unit, you know how amazing your team is because you hired them. You trained them. You work with them day in and day out," she said. "But when patients and families really feel that same level of care – that's why we do it, right?"
Most touching to Jizba was how her team made the patient and his wife feel despite the reason they were there.
"Any time you have a sensitive chronic condition like alcoholism, you don't always get shown the respect you should as a human being," Jizba said. "Here at Methodist, our culture is to treat everyone as a person – not a disease process, an illness or an addiction. To hear that my team was treating this person and his family as people – with the respect and dignity they deserve – isn't surprising. But to hear how much it all meant was just so beautiful."
"When you're in health care, none of those other things matter," Queen said. "All that matters is the patient and what they need in that moment. If they need to talk, then we listen. If they simply need medical attention, then we give it. It comes naturally. And there's just really no room for judgement."
As Queen looked around at her fellow nurses toward the end of their award celebration, she saw many of them beaming with pride – something she hopes they never lose.
"It's a pretty awesome thing – to be in health care," she said. "And I hope we continue to have that level of pride every day."