Awards and Achievements
Carmen Gonzalez Is Methodist Women's Hospital's Employee of the Quarter
Published: Jan. 1, 2021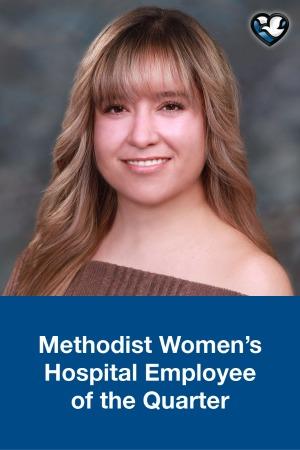 Carmen Gonzalez, a nursing assistant in the Gynecology Department, is the Methodist Women's Hospital Employee of the Quarter for the first quarter of 2021.
Carmen received two nominations for the award:
"Carmen went above and beyond for my patient. My patient had a fetal demise. NICU brought her the disc of photos, and the patient wanted to see them but had no way to play the CD. Carmen looked everywhere for a computer and a DVD player but could not find one, so she had the great idea of setting up the video in the classroom and arranged for the patient to view. It was the sweetest thing ever."
"Carmen always goes above and beyond every shift that she works. When Martti was down, she translated for a Spanish speaking patient for the physicians, social workers and others. She picked up to work at main campus when they were really down CNAs and represented Women's wonderfully. I have never seen her not smiling!" 
Additionally, department service leader Stephanie Bricker, said: "Carmen performs to the highest standards. She is caring and kind in all of her interaction, whether it be with patients, visitors or other staff. "
Congratulations, Carmen, on being selected the Methodist Women's Hospital Employee of the Quarter!
---
The Methodist Women's Hospital Employee of the Quarter award program began in the first quarter of 2013. Award nominations may be submitted by physicians, supervisors, coworkers and staff. Judging is based on how candidates embody the mission and core values of Methodist Women's Hospital: patient focus, integrity, excellence, learning, compassion, teamwork and respect.
All employees and staff at MWH are eligible to receive the Employee of the Quarter award. Employee of the Quarter award winners are automatically considered for the Caring Kind Employee of the Year award, as are Methodist Hospital's Employees of the Month.
To nominate a fellow employee for the Employee of the Quarter award, submit a completed application form to Administration. Each nomination is kept on file for review for two quarters. The "Employee of the Quarter - MWH" application form can be found by searching "Forms" on mhsintranet or clicking here.