Awards and Achievements
Stacie Roberts Honored With Shine Award for Nursing Assistants
Published: Dec. 29, 2020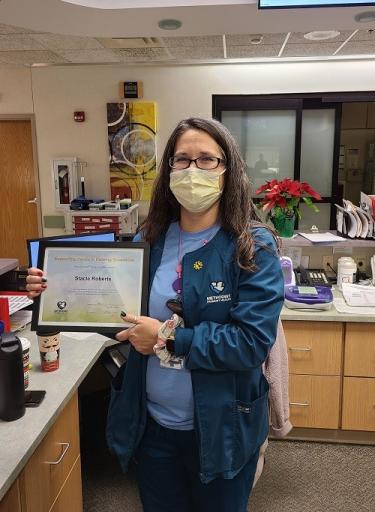 The Shine Award for Nursing Assistants honors these staff members for the special role they play in patient care at Methodist Hospital and Methodist Women's Hospital. Their Supporting Hands assist our nurses In achieving Nursing Excellence and quality patient outcomes. 
---
Shine Award Winner
Stacie Roberts 
Stacie Roberts, a nursing assistant in the Methodist Fremont Health Hospital Emergency Department, has been honored with the Shine Award.
She was nominated by night shift registered nurses, who wrote:
"Stacie is proactive in helping the nurses, physicians and ancillary departments. She is an expert in her role, as she has the responsibility of training others. Stacie is hardworking, picking up shifts when needed without complaints. Her expertise and teamwork in the ER makes our department run smoothly and efficiently. She consistently keeps the flow of the ER moving while giving quality patient care. She is an important member of our night shift team. She encompasses all the Methodist core values (Patient Centered, Respect, Excellence, Teamwork, and Community Service) at her day-to-day operations at Methodist Fremont Health!"
Congratulations, Stacie, on receiving the Shine Award. We thank you for all your hard work to show patients and their families The Meaning of Care.
---
Nominations for the Shine Award can be made by patients, family members or fellow staff members. Nominate a nursing assistant by emailing SHINE@nmhs.org or filling out this nomination form.