Awards and Achievements
Hoarty Receives Health System's First DAISY Nurse Leader Award 
Published: Dec. 15, 2020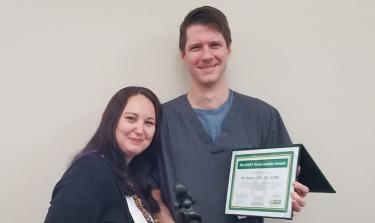 Tim Hoarty, BSN, RN, CCRN, Methodist Hospital's critical care service leader, may not have always known he wanted to lead a team through the many challenges of a pandemic, but growing up, he knew he had a knack for working with and leading others. He was often captain of whatever sports team he played on, and he was surrounded by a family full of medical professionals – many of them leaders in their fields.
Not long after graduating from Nebraska Methodist College, Hoarty landed a cardiac nursing position with Methodist Hospital, which eventually led him down the path toward critical care.
"It's always been a passion of mine – the sickest, the toughest, the most complicated cases," he said. "It's just what I've always wanted to do."
When the opportunity to lead the Methodist Hospital Intensive Care Unit (ICU) was presented to Hoarty, he leapt. And since January, he's been selflessly leading an especially loyal and grateful team that's working around the clock to care for COVID-positive patients. In fact, seven of his nurses recently nominated him for The DAISY Foundation's Nurse Leader Award, which honors those who create an environment of compassion and recognition. 
Each of the nomination letters noted his admirable leadership qualities, his gentle approach with patients and their families, and his relentless efforts in taking care of his staff at a time when morale was low. 
Whitney Lotspeich, BSN, RN, a critical care nurse coordinator and one of Hoarty's nominators, wrote: "Though all of our ups and downs, he has been there, giving unwavering support to the nurses on our unit. His door is always open. It is easy to approach him with concerns and compliments, and he never seems too busy to hear what staff have to say."
A few of Hoarty's nomination letters even highlighted the amount of time he sacrificed away from his wife and baby girl – who was born the day after he accepted his new leadership role. It's fitting that his family was recognized in his nominations because, according to Hoarty, that's who inspires him to be the kind of leader he is. And while the Nurse Leader Award was given only to him, Hoarty knows he didn't earn it alone. He's had another important family by his side since the beginning.
"This isn't something I could have done without everyone who was in that hallway that day. I get emotional thinking about how much each of them have had to do, adjust and give. The people in the ICU and at Methodist are people of the greatest integrity – the greatest responsibility to our community. As this has gotten worse, they've doubled down. They haven't shied away. So, to them, I want to say thank you. Not for this award, but for everything you've given and everything I know you'll continue to give in the future. For however long that might be."