HR and Benefits
Thank You. Your Hard Work Is Not Going Unnoticed
Published: Sept. 23, 2020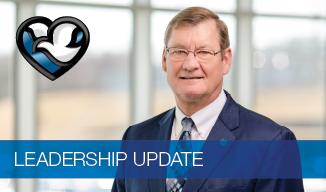 Thank you.
These two simple words may not adequately communicate the gratitude that I and the leadership team want to express for all the hard work that has been displayed the past six months.
COVID-19 has certainly made its presence known in our community. It forced us to make some hard decisions – like halting surgeries, limiting visitors on our campuses and making staff adjustments – all of which were the right and safe things to do. Each of these resulted in temporary setbacks on patient volumes and serious financial deficits.
The good news: We have seen those patient volumes return, even surpassing our expectations at our hospitals and clinics. Financially, we suffered significant setbacks – the outlook in May and June was not promising. But we are recovering and are encouraged by recent third-quarter numbers and our fourth-quarter forecasting.
Given that, I am extremely pleased to announce that the leadership team has approved a 2% pay increase for most employees of the organization. The presidents and vice presidents across the health system have opted out of the 2% increase to ensure that we allocate as much money as possible to our employees.
The pay increase will take effect at the start of the Oct. 4 pay period and will be reflected on your Oct. 23 paycheck. More information on how to check your new rate of pay will be delivered in the coming weeks.
If you have any questions, please reach out to your supervisor directly. Supervisors, a communication with additional information will be sent within the next day.
We are pleased that despite our financial losses, we are able to grant the increase that is often afforded annually to each of you. You have earned it. You deserve it.
There is much work to do in the coming months. COVID-19 is still prevalent, and flu season will soon be upon us. I have no doubt that your focus on The Meaning of Care will continue as will our gratitude for all that you do.