Awards and Achievements
Kelsey Jourdan Is Methodist Hospital's May DAISY Award Recipient
Published: Sept. 9, 2020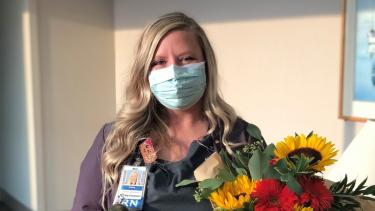 In early March, LaQuita Staton, 32, was admitted to the Cardiac Unit at Methodist Hospital in excruciating pain. Medical surgical nurse Kelsey Jourdan, RN, just happened to be assigned to that floor that day and met LaQuita at her worst.
"I've never been sick enough to be hospitalized," LaQuita said, "So, yeah, I was scared."
"And I could see that," Jourdan said. "So I sat there and talked with her about life in general, trying to get her mind off of everything. I said, 'Hey, can I just call you Q?' And I don't know. We just kind of hit it off."
Before long, Jourdan began noticing swelling in LaQuita's leg. It was right about the time LaQuita began complaining of some pain and tingling. Jourdan called for a rapid response team and the doctors who were available at the time.
LaQuita was suffering from several critical blood clots. 
After a successful surgery, LaQuita was eventually transferred to Methodist Hospital's Medical Surgical Unit, where she and Jourdan were reunited.
"I've always believed that everything happens for a reason," Jourdan said. "But seeing her again – I was like, 'Man, this is absolutely meant to be.'"
LaQuita, still scared, was now struggling mentally and emotionally.
"I was still in so much pain, and I couldn't even get up to go to the bathroom myself," she said. "I couldn't do anything. It was humiliating."
"So I held her – this was before COVID, by the way – and I asked if I could pray with her," Jourdan said. "I never want to push my faith onto anyone, but I could see she needed encouragement. And I wanted to lift her up."
The two went on to talk about church and the meaning it's had on both of their lives.
"She consoled me when I was crying. But she also made me laugh. She was serene and soothing," LaQuita said. "I really felt like she was heaven-sent. The biggest thing we connected over was prayer."
During a surprise celebration last month, Jourdan learned that she was receiving The DAISY Award – a national honor that recognizes the extraordinary care of nurses. And when she realized "Q" had nominated her, her eyes seemed to flash a big smile before quickly filling with tears.
"This means a lot," she said. "I pride myself on my heart and compassion. And to be recognized for being myself is pretty amazing."