Awards and Achievements
Alex Anthone Is Methodist Hospital's Employee of the Month
Published: Sept. 1, 2020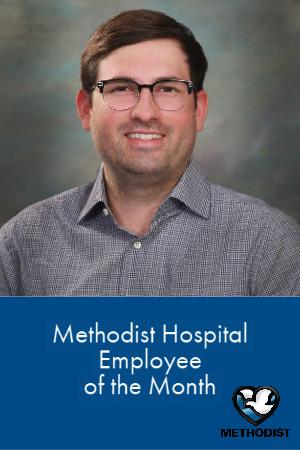 Alex Anthone is a registered nurse in the Surgery Department. He embodies our core values of integrity, excellence, learning, compassion, teamwork and respect in everything he does. Alex has been a Methodist employee for over six years.  
"Alex treats every single patient he comes across as a member of his family. He always has a smile for his patients and kind words that help to set them at ease in a time when they are stressed and scared. Alex is the kind of nurse that we all strive to be. He is knowledgeable, approachable, friendly and more than willing to share what he knows and what he's learned. He is one those rare people that everyone likes and everyone thinks highly of."
Congratulations, Alex, on being selected as Methodist Hospital's Employee of the Month!
---
To nominate a fellow Methodist Hospital employee for the Employee of the Month Award, submit a completed application form to Angie Anderson in Administration. Each nomination is kept on file for review for six months. The Employee of the Month nomination form can be found by searching under the "Forms" tab on mhsintranet, or click here.