Awards and Achievements
Infusion Nurse Abbey Lacy Honored With The DAISY Award
Published: Jan. 15, 2020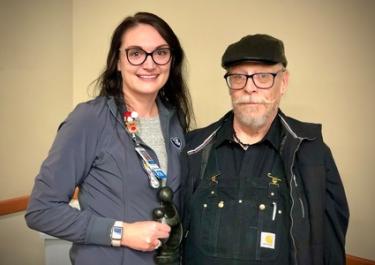 Methodist Estabrook Cancer Center infusion nurse Abbey Lacy, RN, was recently honored with The DAISY Award after organizing a sky-high adventure for one of her patients, Ray Jolly, during one of his lowest weeks.
Jolly may be his last name, but it's also how Ray – who's currently battling blood cancer – chooses to live life. Always positive, grateful and full of joy, "it's just not like him to have such a bum attitude," Lacy said.
It didn't take Lacy long to figure out the best medicine for her fellow thrill-seeker. With the help of her friends at the Lincoln Sport Parachute Club, she lifted Ray's spirits by taking him skydiving – something she, herself, has done dozens of times.
"Certain people deserve certain things," Ray said. "Me jumping out of a plane? I didn't deserve that. But she needed to be recognized for what she does and who she is."
It wasn't just Ray and his wife who nominated Lacy for The DAISY Award, but also two of her coworkers – clinical nurse educator Barb Johnson, MSN, RN, OCN, and phlebotomist Max Lesley, PBT.
Lacy's stunt was so grand that it aired on KMTV 3 News Now.
"He knows how I feel about him," she said. "But he has such a positive attitude and such a positive outlook."
Lacy paused to wipe her eyes before continuing: "I just hope he keeps that."