Awards and Achievements
Kara Zirpel - Methodist Women's Hospital Employee of the Quarter
Published: Oct. 16, 2019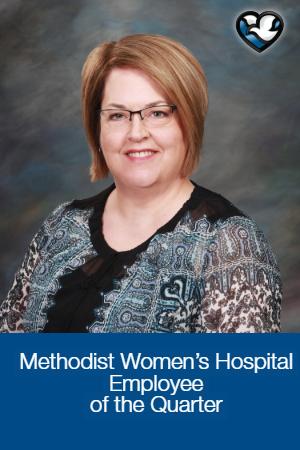 Kara Zirpel, service secretary for the OB/GYN unit, is the Methodist Women's Hospital Employee of the Quarter for the fourth quarter of 2019. She was honored at a recognition ceremony on Sept. 3.
Kara was nominated for the honor by coworkers who described her as an excellent representation of Methodist's mission and vision.
"Kara is so kind and compassionate. She greets each and every patient and guest with a warm smile when entering the unit. Kara works hard to make sure their needs are met and works closely with the rest of the staff to ensure patient satisfaction."
Upon joining Methodist, Kara made a difference from day one.
"She has worked diligently to improve our processes at the front desk. She doesn't accept that things should be done a certain way just because that's how they've always been done. She has reorganized the work area, reworked report sheets, etc., all in an effort to make the space more efficient. I appreciate that Kara is looking for ways to make the organization better."
---
The Methodist Women's Hospital Employee of the Quarter award program began in the first quarter of 2013. Award nominations may be submitted by physicians, supervisors, coworkers and staff. Judging is based on how candidates embody the mission and core values of Methodist Women's Hospital: patient focus, integrity, excellence, learning, compassion, teamwork and respect.
All employees and staff at MWH are eligible to receive the Employee of the Quarter award. Employee of the Quarter award winners are automatically considered for the Caring Kind Employee of the Year award, as are Methodist Hospital's Employees of the Month.
To nominate a fellow employee for the Employee of the Quarter award, submit a completed application form to Administration. Each nomination is kept on file for review for two quarters. The "Employee of the Quarter - MWH" application form can be found by searching "Forms" on mhsintranet or clicking here.