Awards and Achievements
24 AgeWISE Nurses Graduated in June; Cohort No. 16 Began in August
Published: Sept. 18, 2019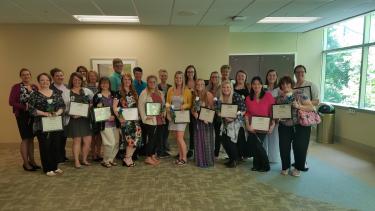 Twenty-four nurses graduated on June 4 from the AgeWISE geropalliative care nurse residency program. This was the first time nurses from Methodist Fremont Health participated. In addition, nurses representing various units at Methodist Hospital and Jennie Edmundson Hospital became AgeWISE nurses. 
AgeWISE graduates:
Myca Aakre
Lindsey Anderson
Kelli Beyer
Sheryl Brown
Beth Cottrell
Bailey Evers
Samantha Evers
Anna Gilliam
McKenzie Harper
Marcy Heim
Abby Jaeger 
Laura Krueger
Lisa Long
Elaine McCord
Kayla Munter
Ann Newton
Kim Pettegrew
Amy Pittman
Gena Popken
Jen Promes
Kourtney Roberts
Haley Sanborn
Matt Sobczyk 
Jordyn Stangl
16th cohort begins
A new cohort of 23 nurses from all three campuses started on Aug. 29. Believe it or not, this new cohort is No. 16. 
Members of the cohort are:
Liz Anderson
Jennifer Arellano
Guy Bahr-Hudson
Tara Barnes
Sarah Bechtold
Cheryl Bohacek
Amanda Brightweiser
Chelsea Clarke
Ginger Gifford
Alesha Graves
Sara Hamilton
Samantha Hass
Morgan Huddle
Amber Kiger
Amy Klimek
Carie Miller
Melissa Mollner
Chantel Mrsny
Danielle Rischling
Natalie Robart
Reileigh Stewart
Melanie Thompson
Sherill Warfel 
About AgeWISE
AgeWISE is a four-month specialty nurse residency program that promotes the crucial role nurses play in enhancing the hospital experience for older patients and their families. Methodist has over 220 AgeWISE nurses infusing geropalliative care nursing principles throughout its hospitals. Methodist continues to be a national leader in AgeWISE and has graduated more AgeWISE nurses than any of the original six pilot hospitals selected in 2010. The program is a collaboration between the hospital and the department of nursing at Nebraska Methodist College. AgeWISE nurses report gaining enhanced knowledge in geropalliative care to provide more specific and sensitive care to their patients, as well as a sense of empowerment and increased confidence when having crucial conversations related to geropalliative care with patients, families and physicians. As an outcome of the residency, these nurses will sit for a professional nursing certification in their nursing specialty.
Questions?
To learn more about AgeWISE, contact Deborah Conley at deborah.conley@nmhs.org.