Awards and Achievements
Jessica Lock Is August's DAISY Award Recipient
Published: Aug. 21, 2019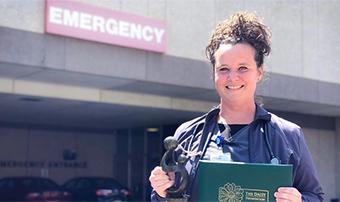 She treats all of her patients the same – like family. But geriatric and emergency nurse Jessica Lock, BSN, RN-BC, is especially drawn to the elderly.
"They lived in a different time," she said. "They have really cool stories to tell. I just feel a connection to them."
That connection was present recently, when an elderly patient arrived at Methodist Hospital's Emergency Department (ED).
"Right from the get-go," Lock said. "When I met her family, I was immediately drawn to them for whatever reason."
But it soon became clear that the patient didn't have much time.
Lock stayed by the patient and her family for 10 hours. Out of all the goodbyes, the most emotional farewell came from the patient's husband of more than 30 years.
"I could feel the pain in his eyes," Lock said. "Just his emotions – it was hard. They had no children. It was just the two of them. He was losing his person."
The day after his wife passed away, the man called the ED with questions. Lock offered him comfort during their conversation.
He called again days later, this time asking Lock to accompany him to his wife's grave site.
"He said he didn't want to go with family," Lock said. "But he also didn't want to go alone. He wanted to go with someone who would quietly stand there with him."
Although a little taken aback, Lock immediately agreed.
On her day off, Lock fulfilled the man's request. She described that moment at the cemetery as "healing for him."
"I don't think he had fully grieved," she said. "I think he had just been going, going, going. So, for him to be able to sit there and quietly be with her – I think it brought a sense of relief. It was special."
Moved to tears by her coworker's compassion, fellow ED nurse Jessica Seymour, BSN, RN, nominated Lock for the DAISY Award.
"She needs to be recognized for going way above and beyond with not only the patient, but the family as well," Seymour wrote in her nomination letter.
For Lock, being a nurse isn't only about meeting a person's medical needs.

"It's taking the time to get to know somebody," she said. "It's laughing with them. It's crying with them. It's doing whatever you can for them even when they're gone."