Awards and Achievements
Kristin McNaughton - Methodist Women's Hospital Employee of the Quarter
Published: July 3, 2019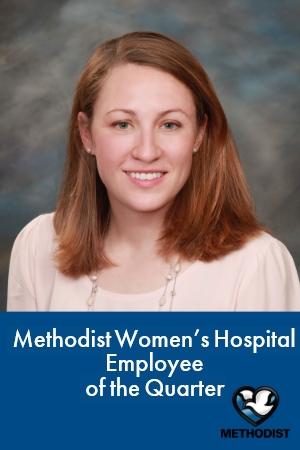 Kristin McNaughton, pharmacist, is the Methodist Women's Hospital Employee of the Quarter for the third quarter of 2019. She was honored at a recognition ceremony on June 6.
Kristin was nominated for the honor by coworkers who described her as an excellent representation of Methodist's mission and vision.
"Kristin is always a positive presence on the units," one of the nominators said. "She is always patient and willing to assist all employees with their questions and needs. She is always open to field questions from staff and never makes anyone feel their questions are insignificant."
Her ability to perform her duties while anticipating the needs of the staff to ensure the best outcomes for patients and excellent working conditions for staff were also noted by her nominators.
"She goes above and beyond her duties by cross-checking all our orders carefully and taking the time to see what's best for our patients. She also takes the time to educate us on certain medications, coming to our units personally to bring us emergent medications or explain complicated medications to us. She is also so respectful to everyone."
---
The Methodist Women's Hospital Employee of the Quarter award program began in the first quarter of 2013. Award nominations may be submitted by physicians, supervisors, coworkers and staff. Judging is based on how candidates embody the mission and core values of Methodist Women's Hospital: patient focus, integrity, excellence, learning, compassion, teamwork and respect.
All employees and staff at MWH are eligible to receive the Employee of the Quarter award. Employee of the Quarter award winners are automatically considered for the Caring Kind Employee of the Year award, as are Methodist Hospital's Employees of the Month.
To nominate a fellow employee for the Employee of the Quarter award, submit a completed application form to Administration. Each nomination is kept on file for review for two quarters. The "Employee of the Quarter - MWH" application form can be found by searching "Forms" on mhsintranet or clicking here.