Awards and Achievements
Danielle Sheehy Is May's DAISY Award Recipient
Published: June 26, 2019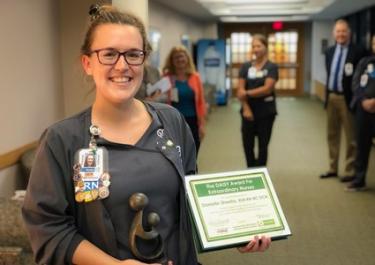 With such a decorated name badge, it's easy to see that critical care nurse, Danielle Sheehy, BSN, RN-BC, OCN, is an achiever. In her eight years at Methodist, she's received several awards and recognitions – many marked by shiny pins.
"How can I be better?" Sheehy asks herself regularly. Especially when it comes to something she's so passionate about: caring for others.
While she currently works on the intensive care unit (ICU) at Methodist Hospital, Sheehy began her nursing career caring for oncology patients on 6 South. It was during this time that she not only went "above and beyond" for one of her patients but also may have saved his life.
Prior to this particular stay, the patient was no stranger to Methodist. He had been in and out of the hospital a number of times before. This time though, he was admitted for perforated diverticulum. He was nearly given the green light to go home when Sheehy walked in and proceeded with a standard exam. The patient had significant swelling in his right leg and minor swelling in his left.
"That's not totally unusual, especially because he was in isolation for an infection," Sheehy said. "He was basically bedridden. He wasn't moving around a lot."
Still, Sheehy was concerned that her patient might have a blood clot.
She called Dr. Bryan Knipe, a hospitalist with Methodist, to suggest an ultrasound for the patient.
An ultrasound was done later that day, confirming Sheehy's suspicion. The patient had a blood clot not only in his right leg but also in his left.
Grateful for Sheehy's attention to detail, the patient's family nominated her for the nationally recognized DAISY Award. Sheehy wiped away tears as part of the nomination letter was read during the recognition ceremony on June 21:
"If my dad had been sent home without the blood clots being discovered and treated, they probably would have killed him. She is extremely humble and sees herself as a nurse who was just doing her job, but we see her as the person who went above and beyond and saved his life. She will always hold a special place in our hearts."
It was clear this DAISY award wasn't just another pin on Sheehy's name badge.
"When you have that 'How can I be better?' mind-set, I think you do become better," Sheehy said. "You find things that others may miss. You catch something that may otherwise be overlooked. That's just what you do. But when somebody takes the time to reflect on that and write something positive, that's when it hits you – your desire to be good at what you do really means something to someone else."
---
The DAISY Award is a nationwide program that rewards and celebrates extraordinary skill and compassionate care given by nurses every day. Nurses can be nominated by anyone, including patients, family members, physicians, supervisors or peers.
To nominate a nurse at Methodist Hospital or Methodist Women's Hospital, visit www.bestcare.org/daisy.