News and Events
Risk Assessment Update Complete for Health System
Published: April 17, 2019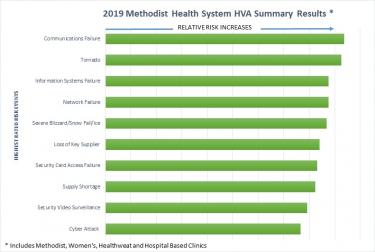 To comply with Joint Commission and CMS requirements, a multidisciplinary team facilitated by the Emergency Management Committee discusses and completes a Hazard Vulnerability Analysis (HVA) or risk assessment for Methodist Hospital, Methodist Women's Hospital, Methodist Jennie Edmundson Hospital, HealthWest and hospital-based clinics. 
The team analyzes over 115 possible events, such as weather, chemical, pandemic, cybersecurity, utility outages, mass casualty, staffing and supply shortages, or communications and their impact on the daily operations of the hospital should they occur. 
Participants consider the history and probability of each risk occurring, and the human, property and business impacts across the four phases of emergency management – mitigation, preparedness, response and recovery. This is done on an annual basis.
Upon completion, a relative threat/risk number is computed and ranked in comparison against other disasters to determine the overall top vulnerabilities of the health system. Results of HVA are used to assist in the development of the hospital's Emergency Operation Plan (EOP), guide training and exercises internally. This information is also shared with the community, including regional hospitals and fire, public health, Healthcare Coalition and county emergency agencies.   
The first graph shown below represents the combined results across the health system followed by the top 20 responses for Methodist Hospital and Methodist Women's Hospital.
For additional information or questions, please contact Val Goodman, system leader for emergency management.