Awards and Achievements
Melissa Feldhacker - Methodist Women's Hospital Employee of the Quarter
Published: April 17, 2019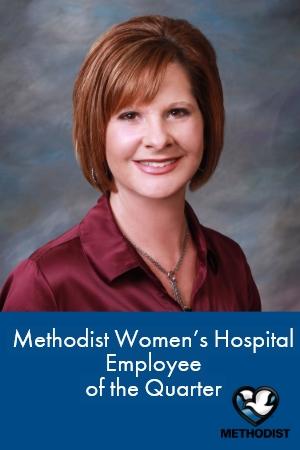 Melissa Feldhacker, a nurse coordinator on the Mother/Baby Unit, is the Methodist Women's Hospital Employee of the Quarter for the second quarter of 2019. She was honored at a recognition ceremony on March 13.
Melissa was nominated for the honor by a coworker 
who described her as an excellent representation of
The Meaning of Care.
Melissa has been a core on the Mother/Baby Unit for 5-plus years and has passionately led her night shift team in a kind and patient-focused manner.
"Being a core on night shift has its challenges," the nominator said. "There are not as many resources in the building to help out when things go wrong. It also seems to be the time when those babies wake up and are wanting to be held and fed for hours (and their mamas are so very tired)."
Because the night shift often consists of recently hired nurses, it was noted that Melissa spends a lot of time teaching and reiterating processes and policies.
"She helps them learn to prioritize and makes sure to get them involved with learning opportunities as they occur on the unit. She is so kind and compassionate and it is very evident the staff really respects her. She maintains a close relationship with those she works with while still enforcing the rules and expectations set forth by Methodist."
---
The Methodist Women's Hospital Employee of the Quarter award program began in the first quarter of 2013. Award nominations may be submitted by physicians, supervisors, coworkers and staff. Judging is based on how candidates embody the mission and core values of Methodist Women's Hospital: patient focus, integrity, excellence, learning, compassion, teamwork and respect.
All employees and staff at MWH are eligible to receive the Employee of the Quarter award. Employee of the Quarter award winners are automatically considered for the Caring Kind Employee of the Year award, as are Methodist Hospital's Employees of the Month.
To nominate a fellow employee for the Employee of the Quarter award, submit a completed application form to Administration. Each nomination is kept on file for review for two quarters. The "Employee of the Quarter - MWH" application form can be found by searching "Forms" on mhsintranet or clicking here.