Awards and Achievements
Haleigh Grieve, BSN, RN, Is March's DAISY Award Recipient
Published: April 3, 2019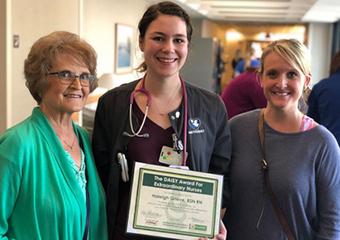 Following in her mother's footsteps, Haleigh Grieve, BSN, RN, became a nurse in December 2017 after graduating from Nebraska Methodist College. Her father, an army medic, also greatly influenced her.
Her decision to pursue a career in nursing is something Heather Christy considers a blessing.
Heather's mother, Bette, was admitted to the Progressive Care Unit at Methodist Hospital for low blood pressure and a perforated colon. It was during her hospital stay that Heather witnessed Grieve's kind, gentle and calming demeanor.
"Even during the scariest point of Mom's stay, she made everything OK," Heather recalled.
Following her mother's discharge, Heather nominated Grieve for the DAISY Award, which celebrates nurses for providing extraordinary care.
In her nomination letter, Heather wrote: "Her nursing skills were perfect. No detail was ever overlooked."
When it comes to her skill and attention to detail, Grieve credits her own mother, who passed away in May 2017.
"After she died, there was a part of me that thought, 'What's the point of doing this – going to school and becoming a nurse?' But thanks to my family I realized this is what she would want. I was meant to do this. And that part in the letter about no detail being overlooked? That's who I am now, because that's who she was."
And as for her kindness and compassion? Grieve always thinks back to the words her mother used to tell her.
"My mom used to always tell me, 'Treat others how you want to be treated,'" Grieve said. "And so I do."
---
The DAISY Award is a nationwide program that rewards and celebrates extraordinary skill and compassionate care given by nurses every day. Nurses can be nominated by anyone, including patients, family members, physicians, supervisors or peers.
To nominate a nurse at Methodist Hospital or Methodist Women's Hospital, visit www.bestcare.org/daisy.