Awards and Achievements
Megan Nachreiner, BSN, RN, Is February's DAISY Award Recipient
Published: Feb. 27, 2019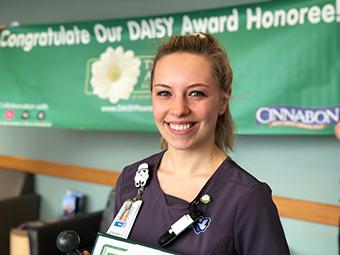 When she learned that she had received the DAISY Award, Megan Nachreiner, BSN, RN, a nurse in the cardiac unit at Methodist Hospital, raised her hands to cover the smile that had
spilled across her face and shouted, "Why?!"
Her coworkers laughed and clapped, knowing that's typically how humble Nachreiner is.
She was nominated by a family who expressed deep appreciation for her care and compassion toward their 95-year-old father who was placed in hospice care during his stay at Methodist.
"Megan was his nurse for three days," the nomination letter read, "and we could not have asked for a more competent and caring person to take care of our father!"
The family praised Nachreiner for always being there to explain their father's condition and to answer any questions.
The letter also went on to explain that Nachreiner not only tended to the patient's every need, "but she also made sure that I and the rest of the family always had tea, water, coffee and snacks. She definitely made a very difficult situation much easier."
So Nachreiner was asked, "Why?"
Why take the extra time and energy to care for an entire family – people who weren't even her patients?
Her response: "The patient is our focus, yes. They're the first circle of who you love on and who you take care of. But the patient is so much more than just them. It's their family, it's where they live, who they see, things that matter to them. And so to best take care of someone, it's so important that you broaden your scope."
---
The DAISY Award is a nationwide program that rewards and celebrates extraordinary skill and compassionate care given by nurses every day. Nurses can be nominated by anyone, including patients, family members, physicians, supervisors or peers.
To nominate a nurse at Methodist Hospital or Methodist Women's Hospital, visit www.bestcare.org/daisy.