Awards and Achievements
Katie Triplett Among Omaha Jaycees TOYO Winners
Published: Feb. 27, 2019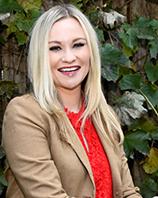 Katie Triplett, MSN, APRN-BC, senior manager of regulatory standards and risk management for Methodist Hospital and Methodist Women's Hospital, was recently named one of the Omaha Jaycees Ten Outstanding Young Omahans.
This was the 86th year for honoring individuals between the ages of 21 and 40 who show exemplary commitment to improving the Omaha community through selfless acts of kindness while excelling in their professional careers.
Triplett received her undergraduate and graduate degrees from Clarkson College in Omaha. In her tenure at Methodist, she has facilitated the development and opening of a protocol-driven chest pain unit in 2014 and led the organization to their first-ever Chest Pain Center accreditation in 2015. She is now responsible for developing and administering a health care environment incorporating high-quality, low-cost care and processes to optimize patient safety and regulatory compliance.
She is actively involved in the Omaha community, volunteering her time and talents to organizations and causes that advance the holistic wellness of Omaha's population through promoting art and culture, offering mentoring and growth opportunities, and developing the leadership potential of women and girls.
She currently serves as president of Friends of Nebraska Children, president-elect-elect of The Junior League of Omaha and corresponding secretary for the Rose Theater Guild. She also supports the Girl Scouts Spirit of Nebraska, the Omaha Jaycees and the Joslyn Art Museum. Katie received the Midland Business Journal's 40 Under 40 award in 2016 and The Junior League of Omaha's Woman to Watch award in 2017.