Awards and Achievements
Angela Knigge, BSN, RN, is January's DAISY Recipient
Published: Feb. 13, 2019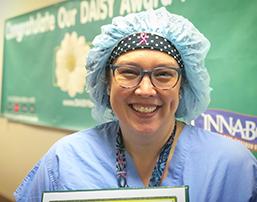 When a patient arrived to Methodist Hospital with no clothes and no shoes, Angela Knigge, BSN, RN, tapped into The Meaning of Care.
Knigge was working in the operating room when she met and began taking care of an older gentleman. She recalls him telling her that he had gotten out of the shower at home. The next thing he remembered was waking up naked as medics were preparing to transport him to the hospital.
"I just remember thinking, 'This man cannot leave with no clothes.' It was cold outside. We needed
to take care of him," Knigge said.
She purchased socks, underwear, sweatpants, a sweatshirt, slippers and a jacket.
"He was very humbled. Very humbled. He smiled
a big smile and said, 'Thank you.'"
Knigge began tearing up when she described
that moment.
"In this line of work, you never do anything with the intent of getting anything back in return. It's just a given. That you show unconditional love. For what you do, for the people you work with and for those you care for."
Knigge is January's DAISY Award recipient for Methodist Hospital and Methodist Women's Hospital. She was nominated by a fellow nurse, Britney Cope, BSN, RN.
Here's what Britney wrote:
"The patient was brought to the hospital with no shoes or other clothes to wear. Angela was in the OR that day and found this information out. A few days post operatively Angela, along with other OR nurses, presented the patient with a gift box. In the box was a pair of new shoes, sweatpants and a sweatshirt. The patient was so grateful and had tears in his eyes telling me the story. I am nominating these nurses for their amazing care and going above and beyond for this patient."
Knigge was thrilled to be recognized for a job well done. And while some may consider what she did for the man a corporal work of mercy, she simply considers it The Meaning of Care.
---
The DAISY Award is a nationwide program that rewards and celebrates extraordinary skill and compassionate care given by nurses every day. Nurses can be nominated by anyone, including patients, family members, physicians, supervisors or peers.
To nominate a nurse at Methodist Hospital or Methodist Women's Hospital, visit www.bestcare.org/daisy.