Awards and Achievements
Kim Pojar Is December DAISY Award Winner
Published: Dec. 26, 2018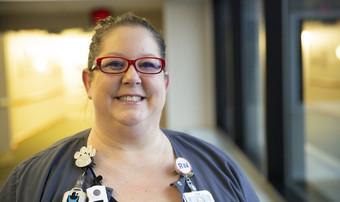 Kim Pojar, BSN, RN, from the Methodist Hospital General Surgery/Medical Unit on 8 South, was honored at a recognition ceremony on Dec. 26 as December's DAISY Award winner for Methodist Hospital and Methodist Women's Hospital.
Her nomination came from a patient who said she has stayed at Methodist Hospital many times for a chronic condition. However, an interaction with Kim during a hospitalization in September was "life-changing."
"From the first moment she came in my room, I knew I was in good care," the patient wrote in her nomination letter. "She went way beyond the usual duties of a nurse. She took charge and helped me with anything I needed. Her smile and positive attitude were the best medicine ever."
The patient said Kim went out of her way to help – even being a literal cheerleader to help raise her low blood pressure.
"My blood pressure would drop at night really low, and she would come in, and we would start cheerleading to get my pressure up," the patient wrote. "By the time we were done she had me laughing so hard I was crying. What a hoot!"
The patient said she looked forward to having Kim as her nurse at night, claiming she was the best asset on her Methodist care team.
"I'm so grateful to have met her," the patient wrote. "I will never forget her outstanding care and truly contagious happiness."
---
The DAISY Award is a nationwide program that rewards and celebrates extraordinary skill and compassionate care given by nurses every day. Nurses can be nominated by anyone, including patients, family members, physicians, supervisors or peers.
To nominate a nurse at Methodist Hospital or Methodist Women's Hospital, visit www.bestcare.org/daisy.