Awards and Achievements
Anna Sash Is October DAISY Award Winner
Published: Oct. 31, 2018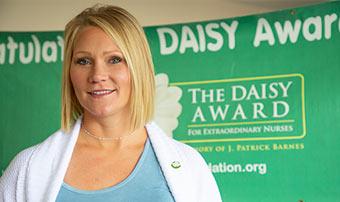 Anna Sash, BSN, RN, from the Methodist Hospital ACE Unit on 7 South, was honored at a recognition ceremony on Oct. 30 as this month's DAISY Award winner for Methodist Hospital and Methodist Women's Hospital.
She was nominated by a fellow Methodist nurse who said Anna – and the entire team on 7 South – provided outstanding care when her own mother was in the hospital.
"When my wonderful mom was hospitalized with a stroke, she was placed on 7 South ACE. Now being the 'family member' instead of the nurse, I was always at my mom's side. The care on 7 South was outstanding, including all of the nurses and care techs they were all so caring and very attentive."
The incident gave the worried nurse a new perspective of what it's like to have a loved one on the receiving end of The Meaning of Care.
"As a nurse I know how important it is to not only be a professional with patients and families, but to also show compassion. Anna treated my mom with great compassion showing she truly loves her job."
Of all the nurses and staff who provided care, the nominator said Anna stood out in the crowd.
"She was so wonderful to my mom, always professional. But more important to me she was patient and understanding," she wrote. "Anna always took the time to visit with Mom, answer our questions and did the little "extras," never acting busy or rushed. Because Mom had Anna more than one day and I knew she was getting the best care, I was comfortable leaving Mom when I needed to."
The nominator wrote that the care her mother received gave her great pride in being part of the Methodist family.
"I have been a nurse with Methodist Hospital for many years. As a nurse with the IV Team I have many opportunities to interact with nurses on all floors as they care for patients and their families. I am always so proud of the nurses we have at Methodist they are so caring and do a wonderful job."
---
The DAISY Award is a nationwide program that rewards and celebrates extraordinary skill and compassionate care given by nurses every day. Nurses can be nominated by anyone, including patients, family members, physicians, supervisors or peers.
To nominate a nurse at Methodist Hospital or Methodist Women's Hospital, visit www.bestcare.org/daisy.