Awards and Achievements
Alyssa Mann is August DAISY Award Winner
Published: Aug. 30, 2018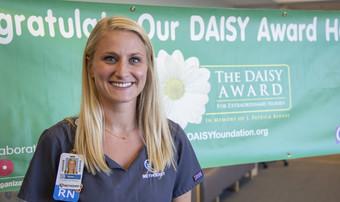 Alyssa Mann, BSN, RN, from the Methodist Hospital short stay unit, was honored at a recognition ceremony Aug. 29 as this month's DAISY Award winner for Methodist Hospital and Methodist Women's Hospital.
Alyssa was nominated by a patient who wrote not just one, but two lengthy emails to the hospital singing praises about the care he received. 
"My career's last two decades have been in executive leadership roles in organizations with hundreds of employees and as a senior Naval Reserve Officer," the patient wrote. "Alyssa Mann is one of the top 25 of the thousands of people I encountered during this time. Alyssa's performance should be recognized, and her personal example and team-building abilities expanded within Methodist."
In his letters, the patient focused frequently on Alyssa's approach to caring for patients as a whole. He raved about her ability to encourage and reinforce behaviors that would help him feel better physically and mentally. He also noted how Alyssa used her experiences to coach and mentor fellow nurses.
"She is aware of the larger picture and observes the patient's situation to accomplish what needs to be done," the patient wrote. "Alyssa's patient care goes beyond what she has been directed to do. She notices the small things and takes the initiative to improve care."
While the patient originally hoped to attend the DAISY ceremony in person, he was unable. In his absence, he sent several pints of different flavors of ice cream from Coneflower Creamery. He wanted the ice cream to symbolize the variety and quality of care that many nurses provided during his stay.
"Methodist has uniformly good nursing and care professionals," the patient wrote. "Alyssa's level of expert care and personal interest in my recovery was exceptional. Her rare combination of a deep understanding of medicine, the mental aspects of patient health, her make-things-happen approach and cheery disposition are an inspiration."
Read more about Alyssa's story on BestCare Today.
---
The DAISY Award is a nationwide program that rewards and celebrates extraordinary skill and compassionate care given by nurses every day. Nurses can be nominated by anyone, including patients, family members, physicians, supervisors or peers.
To nominate a nurse at Methodist Hospital or Methodist Women's Hospital, visit www.bestcare.org/daisy.