News and Events
4 Ways Methodist is Using Technology to Make Health Care More Accessible for You
Published: Aug. 8, 2018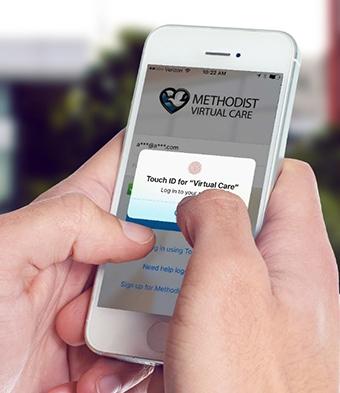 Methodist Health System employees are urged to take advantage of new technologies that put their personal health information at their fingertips.
Thanks to expanding capabilities, Methodist offers the ability to not only visit a health care provider via the internet, but also access to your health records through your computer, tablet or smartphone. 
Here are the many ways Methodist is making health care more accessible:
Methodist Virtual Care
Methodist Virtual Care is telemedicine: medical care delivered from a distance through the use of telecommunication and information technology. With Methodist Virtual Care, you can quickly connect and video chat face-to-face with a physician who can diagnose, suggest follow-up and prescribe medication (when appropriate) for minor medical issues.
How to access Methodist Virtual Care
You must be 18 or older to enroll. To have a visit for your child, you must enroll yourself. You will be asked for your child's information before the visit.
The cost of a Methodist Virtual Care visit is $39, making it a great health care value for anyone.
Methodist Health System employees who participate in the MHS Health Plan or MJE Health Plan can enjoy additional savings as an employee benefit. 
my.Bestcare
The Methodist patient portal, known as my.Bestcare, allows you to access your Methodist health records, review lab results and documents, refill prescriptions, schedule appointments, and receive messages from health care providers. It makes important health care information easily accessible, improving communication between patients and providers.
How to access my.Bestcare
Contact your Methodist Physicians Clinic provider for a link to create an account, or self-enroll by visiting mybestcare.iqhealth.com/self-enroll/. Note: You will need your medical record number to self-enroll; it is available by asking your provider's office.
From your computer, tablet or smartphone, go to bestcare.org and click on the my.Bestcare button, or go directly to My.Bestcare.org.
HealtheLife
After creating a my.Bestcare account, you can use the HealtheLife app to access the patient portal using a smartphone or tablet. Available on Apple and Android devices, the HealtheLife app also allows you to find Methodist doctors or Methodist Physicians Clinic locations, as well as view a calendar of Methodist classes and support groups.
How to access HealtheLife
Contact your provider to first create a my.Bestcare account before trying to access the patient portal via HealtheLife.
Apple Health
Earlier this year, Methodist became one of 39 health systems in the United States to work with Apple to offer health information data access through the Apple Health app. Methodist is the only health system in Nebraska and Iowa with this capability.
How to access records via Apple Health
Update your Apple device's iOS software and then follow these steps:
Access the Health app and select Health Records.
The nearest hospital and clinic locations will appear if you have "location services" active on your iPhone. You can also search for Methodist by name or location.
Tap on any Methodist location.
You will be asked for your my.Bestcare username and password.
Once entered, the specific health data will be downloaded.