Awards and Achievements
Keri Kennon Is June DAISY Award Winner
Published: June 26, 2018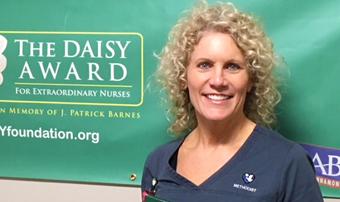 Keri Kennon, BSN, RN, from Methodist Hospital Cardiac Unit 9N/S, was honored at a recognition ceremony on June 24 as the June DAISY Award winner for Methodist Hospital and Methodist Women's Hospital.
Keri was nominated for her award by the wife of a patient who was in the hospital following a double bypass and heart valve replacement. While she stated that every nurse and CNA was caring and competent during her husband's hospital stay, Keri stood out because of her compassion and commitment to care. 
In her letter, the patient's wife outlined four reasons why Keri was such an outstanding caregiver:
Keri took the time to provide pertinent information about test results by explaining the information in layman's terms so we could better understand what was going on. Sometimes patients just hear the results in technical terms, but really don't understand the meaning behind them. 
During my husband's stay, he had an episode where his heart rate started dropping (into the 30's). Keri and another nurse jumped in and were able to get him hooked up to the pacemaker so he recovered immediately. While my husband was cared for by many staff members at that time, Keri took the time to explain the situation to us in a very calm manner. She reassured us that my husband would be monitored very carefully. It was her calm and professional demeanor that provided us relief! 
When we asked about her background, she shared information about herself which made her seem more "human"! 
Before her shift ended, she thanked my husband for letting her provide nursing support to him and for allowing her to help him in his recovery. We have been in many hospitals over our lifetime and we have never had a nurse thank us for allowing them to help us! 
Congratulations – and thank you – to Keri for her exceptional achievement.
---
The DAISY Award is a nationwide program that rewards and celebrates extraordinary skill and compassionate care given by nurses every day. Nurses can be nominated by anyone, including patients, family members, physicians, supervisors or their peers.
To nominate a nurse at Methodist Hospital or Methodist Women's Hospital, visit www.bestcare.org/daisy.