Awards and Achievements
MHS Marketing Department Wins 18 National Awards
Published: June 20, 2018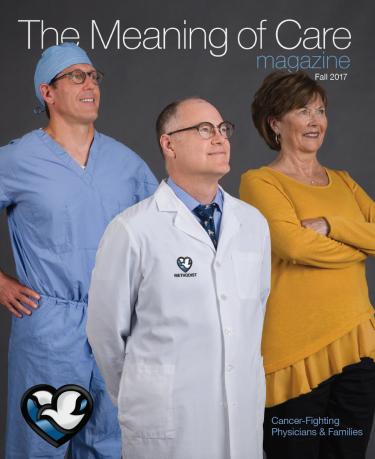 The Methodist Health System Marketing Department was recently honored with a total of 18 awards in two national competitions: the Aster Awards for excellence in medical marketing and the Healthcare Advertising Awards, the nation's oldest and largest health care advertising awards program.
The Meaning of Care Magazine Wins National Honors
The Aster Awards honored The Meaning of Care Magazine with a Gold award. The magazine is written, designed, photographed and produced in-house by the MHS Marketing Department. The Aster competition recognizes the nation's most talented healthcare marketing professionals for excellence in advertising and marketing.
The Meaning of Care Magazine is available at our affiliate sites and mailed to over 40,000 consumers in targeted ZIP codes, with circulation and demographics matched to each issue's content. Recipients include many of Methodist's patients and clients, physicians and donors to our foundations as well as members of the media, who often pick up and expand on the stories. The magazine is available online at bestcare.org/tmoc.
The other MHS advertising and marketing projects honored by these national award programs reflect the ongoing successful collaboration between MHS Marketing and Anderson Partners Advertising.
Methodist Wins Additional Healthcare Advertising Awards 
In total, the Methodist Health System Marketing Department won nine awards in the 2017 Aster Awards competition and eight awards in the 2017 Healthcare Marketing Report advertising competition. The 2017 Hospital Marketing advertising competition listed Methodist as a finalist in all four categories entered, and Methodist received a Gold Award for Best Radio Campaign. A national panel of judges evaluated entries based on creativity, quality, message effectiveness, consumer appeal, graphic design and overall impact.
Materials developed, produced and/or distributed during 2017 were eligible for the 2018 award programs. Here is a list of all the awards earned by the team for their publication and advertising campaigns:
Methodist The Meaning of Care Magazine Series
Aster Award: Gold, Publication - External
Methodist is Making History Radio Series
Aster Award: Bronze, Radio - Series
Healthcare Marketing Report Award: Silver, Radio - Series
Hospital Marketing Advertising Award: Gold, Radio - Campaign
Methodist Is Making History Magazine Ad Series
Aster Award: Gold, Magazine Advertising - Series
Healthcare Marketing Report Award: Silver, Magazine - Series
Methodist Is Making History Newspaper Ads
Aster Award: Gold, Newspaper Advertising - Series
Healthcare Marketing Report Award: Bronze, Newspaper - Series
Methodist Is Making History Billboard - Series
Aster Award: Gold, Billboard Design - Series
Methodist Is Making History Cancer Service Line
Aster Award: Silver, Service Line - Cancer
Methodist Is Making History Women's Service Line
Aster Award: Judge's Choice, Service Line - Women's Services
Methodist Is Making History Other (Primary Care) Service Line
Aster Award: Gold, Service Line - Primary Care
Methodist Is Making History Television Campaign
Healthcare Marketing Report Award: Merit, Television - Series
Methodist Is Making History Birth Services Outdoor
Healthcare Marketing Report Award: Merit, Outdoor
Methodist Is Making History Total Campaign with TV
Healthcare Marketing Report Award: Merit, Total Advertising with TV
Race for the Cure Expo Event Campaign
Healthcare Marketing Report Award: Merit, Special Event
Methodist Nurses Yearbook
Aster Award: Gold, Publication/Internal - Single
Healthcare Marketing Report Award: Merit, Publication - Internal