Awards and Achievements
ESGR Honors Methodist Hospital for Supporting Military Employees
Published: June 12, 2018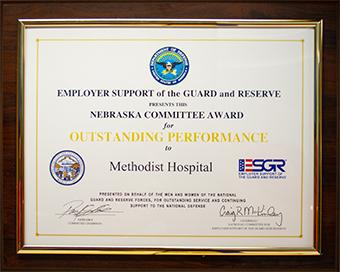 Methodist Hospital was recently honored for providing exemplary support to employees who serve in our nation's forces by the ESGR (Employer Support of the Guard and Reserve). 
The Outstanding Performance certificate is used by the State chair to recognize outstanding volunteers and employers. It is presented annually at the state level to honor employer initiative or exemplary support to the Guard and Reserve.
Methodist Hospital Emergency Department Service Leader Chelsea Craig was recognized last year by the ESGR for her outstanding performance in support of the Guard and Reserve. That award was presented at the recommendation of Staff Sgt. Jonathan Zgainer (ED Care Technician), and that helped serve as the building block for the entire hospital to earn recognition this year. 
Congratulations to Methodist Hospital!