News and Events
May is Stroke Awareness Month
Published: May 2, 2018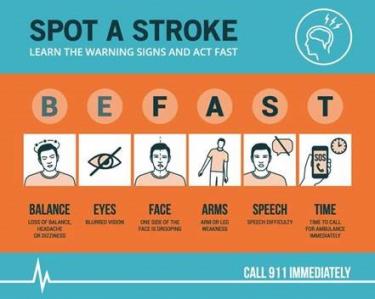 A stroke occurs when blood flow to the brain is blocked. This causes brain cells to die which affects speech, movement, vision or behavior. Stroke is the 5th leading cause of death and is the number 1 cause of adult disability in the United States. 
A stroke is a brain attack and like a heart attack, a stroke requires emergency response and treatment. Knowing your risk factors and the symptoms of a stroke can save your life! 
     Balance – sudden onset of balance difficulties
     Eye – sudden onset of vision problems (loss of vision, double vision)
     Face – facial drooping, loss of sensation on one side of the face
     Arms – weakness or changes in sensation on one arm (or leg)
     Speech – inability to speak or understand, slurred or garbled speech
     Time – Time to call 911 
There may be treatment available to reverse or stop the progression of symptoms. These treatments are time sensitive, so if you or your loved ones experience symptoms of a stroke, B.E. F.A.S.T. and call 911. 
Methodist Hospital and Methodist Jennie Edmundson Hospital are certified as Primary Stroke Centers by the Joint Commission. Methodist Women's Hospital is certified as an Acute Stroke-Ready Hospital by the Joint Commission