Awards and Achievements
Haley Stoetzel Is April DAISY Award Winner
Published: April 24, 2018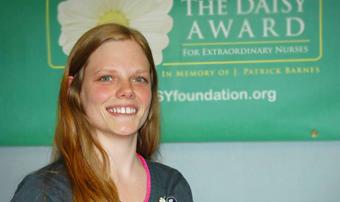 Haley Stoetzel, BSN, RN, from Methodist Hospital 4 South, was honored at a recognition ceremony on April 23 as the April DAISY Award winner for Methodist Hospital and Methodist Women's Hospital.
Haley was nominated by Methodist Senior Administrative Assistant Sharyl Peterson for outstanding care Haley provided to her mother during a recent hospital stay.
"She took care of my Mother after she had a stroke that paralyzed her left side," said Sharyl. "Haley was so good to my Mother and provided such excellent care at a very difficult time for Mom and my family. Haley made sure Mom was comfortable, kept clean, ate meals and more. She was always stopping in to check on Mom and ensure she was well taken care of and didn't have any issues. But most of all she was always ready to contact an expert when things got bad."
In her nomination letter, Sharyl wrote about an instance where her mother's dementia issues worsened and immediately contacted the doctor to address those concerns. She also raved about the kindness Haley has shown her mother even after her discharge from the hospital.
"Haley went far above and beyond and she is greatly appreciated," wrote Sharl. "She told Mom when she was discharged to skilled nursing that she would come to visit her; guess what, she did exactly that! More than once Haley visited Mom and brought her two young girls along with her. Who does that???? She does!!!! She is totally amazing!"
---
The DAISY Award is a nationwide program that rewards and celebrates extraordinary skill and compassionate care given by nurses every day. Nurses can be nominated by anyone, including patients, family members, physicians, supervisors or their peers.
To nominate a nurse at Methodist Hospital or Methodist Women's Hospital, visit www.bestcare.org/daisy.