Awards and Achievements
Dr. James Reilly Honored as a Pink Tie Guy
Published: April 17, 2018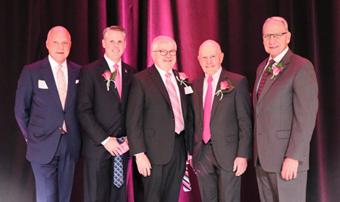 Dr. James Reilly, surgical oncologist at Methodist Estabrook Cancer Center's Breast Care Center, was named a 2018 Pink Tie Guy at the Susan G. Komen Great Plains Pink Ribbon Affair fundraiser held April 7 at the Hilton Omaha.
The Pink Tie Guys are men who are strong advocates for breast health and breast cancer research. Dr. Reilly served as the surgeon for many of the cancer survivors in attendance, many of which, thanked him personally for his support during their treatment. Dawn Gonzales, board president for Komen Great Plains, was among those grateful for Dr. Reilly's expertise and compassion.
Practicing in Omaha for over 25 years, Dr. Reilly appreciates the improvements made in breast cancer surgery, and is well known for his skill and compassion.   
Dr. Reilly was honored alongside fellow Pink Tie Guys Steve Swanstrom, Centris Federal Credit Union; Pete Miller, advocate and fundraiser; and John Christensen, UNO Chancellor Emeritus.
Funds raised at the Pink Ribbon Affair support outreach, screenings and treatment support for the 24 Nebraskans diagnosed with breast cancer each week, and allows the organization to support local programs focused on breast health education, as well as breast cancer screening and survivor support services for those most at risk and most in need. More than 300 individuals attended the 2018 gala event.